World news story
Two Zambians scoop British scholarships for 2013/14
The British High Commission announced today that two talented Zambians have been awarded scholarships to undertake post-graduate studies in the UK.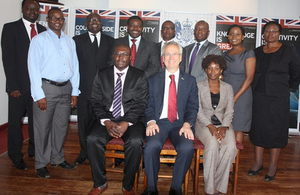 The scholars have received generous funding from Chevening and African Fellowship Trust. Scholarships are an element of the British Government's programme to promote greater capacity for the next generation of Zambian leaders and to further develop the excellent relationship between Zambia and the UK. The schemes aim to nurture talented Zambian scholars with the potential to become future leaders in their field.
Speaking at the official pre-departure briefing event in Lusaka today, British High Commissioner James Thornton said:
"Britain has a global reputation for excellence in the field of education and skills, rooted in our centuries-old yet forward-looking educational system. It's a tradition of learning that we continue to share with the world, including Zambia. I am certain that these gifted young people will return from their studies at some of the finest universities in the UK with the skills and knowledge to contribute significantly to Zambia's development."
The High Commissioner went on to say that previous British Government scholars had reached top positions in Zambian life. He hoped that the Chevening Scholarship programme would continue to cement relationships between the UK and Zambia.
Applications for 2014-2015 Chevening Scholarships in Zambia are now open and will close on 15 November 2013.
Ends
Further Information
Chevening Scholarships are the UK government's global scholarships programme. Established in 1983, these scholarships support study at UK universities – mostly one-year Masters' degrees – for students with demonstrable potential to become future leaders, decision-makers and opinion formers.

Chevening Scholarships are currently offered in approximately 110 countries, in most regions of the world. In the current academic year, there are over 700 Chevening scholars at universities across the UK.

In Zambia Chevening Scholarships are administered by the Association of Commonwealth Universities (ACU) on behalf of the Foreign and Commonwealth Office (FCO).

The African Fellowship Trust (AFT) is a registered UK charity which specialises in agriculture and rural development for the sub-Saharan region. AFT programme offers scholarships for African students to study at the Royal Agricultural University at Cirencester for one-year.
5.Chevening and its predecessor schemes have been operating in Zambia since 1985 and over 150 Zambians have studied in the UK under the Chevening Scheme.
6.For further information on Chevening scholarships please visit our website site.
2013/14 Scholars:
Chevening
Dr Moses Sakala, MSc in Infection and Immunity – University of Leicester
African Fellowship Trust
Ms Godfridah Sitali, MSc International Rural Development – Royal Agricultural College
Published 3 September 2013