News story
Two years on, promoting innovation and evidence-based approaches to humanitarian crises
An overview of DFID's approach to building resilience to natural disasters and responding to humanitarian emergencies.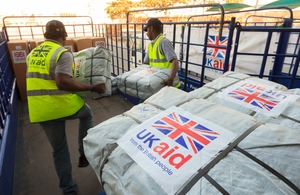 Every year, the lives and livelihoods of millions of people are pushed to the brink by war and natural hazards.
In 2013, 14 million people were affected by Typhoon Haiyan, which plunged a part of the Philippines that was already poor further back into poverty. The economic costs of the crisis are estimated by the Asian Development Bank to be in the region of $12-15 billion, equivalent to 5% of GDP. In the 20 years to 2012, disasters caused US$2 trillion of damage in the developing world, more than the total of development aid given over the same period.
Meanwhile, conflict in Syria has driven more than 1 in every 15 people from their homes, with more than 3 million refugees and a further 2.4 million people displaced internally. There is no sign of an immediate respite to the crisis, or to the potential for regional spill-over. Syria joins a list of countries where conflict threatens to deprive children, women and men of safety and opportunity, perhaps for a generation.
In Africa, thousands of lives have been affected by the current Ebola outbreak with some experts predicting that the virus could infect up to 1.4 million people by January if left unchecked. Conflicts in South Sudan and Central African Republic remain unresolved, continuing to displace large proportions of their populations.
The convergence of trends - climate change, urbanisation, population growth and political instability - means that more people are likely to become critically vulnerable the demand for humanitarian assistance is likely to increase. We need to be smarter as global emergencies continue to expand in both frequency and complexity.
In 2012 DFID launched a ground-breaking strategy, Promoting innovation and evidence-based approaches to building resilience and responding to humanitarian crises. The first of its kind from a bilateral donor, this strategy aimed to address 4 key problems in the global humanitarian community's response to crises:
decision-makers do not have routine access to good information about the multiple dimensions of risk
we don't really know which interventions are most effective at reducing risk, saving lives and rebuilding livelihoods after crises
there is insufficient capacity to build resilience or mount responses when disaster strikes
decision-makers are not always using available evidence to inform their decisions
In order to address these problems, DFID has partnered with a range of humanitarian agencies and research organisations to establish as series of research and innovation projects. The overview paper, published today sets out these research projects and marks out where DFID will continue to focus over the next two to three years.
This investment in humanitarian research is increasing understanding of the context and what works most effectively in emergencies, bringing in the expertise of world-class research commissioning bodies, testing new interventions, and improving the accessibility and use of evidence for humanitarian practitioners and policy-makers.
Published 25 November 2014