Press release
Two new rape support centres to help victims recover
Two new rape support centres will provide more victims of sexual assault and rape with access to vital local support, Minister for Women Nicky Morgan and Victims Minister Mike Penning announced.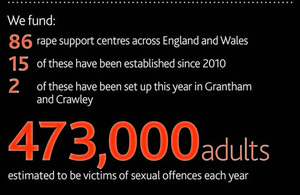 The new centres will open in Grantham, Lincolnshire and Crawley, West Sussex offering victims access to expert advice, support and counselling as well as practical help throughout the criminal justice system. The centres will share around £300,000 a year to offer much-needed specialist services to hundreds of victims of sexual crime in areas where previously none existed. They will work with female victims who have experienced rape or sexual violence at any point in their lives. In addition to face to face counselling, there will also be support groups, female-only safe spaces and even access to counsellors through Skype.
Today's announcement means that the coalition government has met its commitment to open 15 new support facilities across the country since coming to power in 2010. The new centres are in addition to 84 established centres also receiving government funding through to 2015 to 2016.
Minister for Women and Equalities Nicky Morgan said:
I want women to know that if they ever suffer the horrific ordeal of rape or sexual assault they will be offered all of the expert advice and support they need to rebuild their lives and put the perpetrator behind bars.

This government committed to open 15 new support centres across the country and I am proud to say that this announcement today means we have delivered on our promise.
Funding of these centres is part of the government's Violence Against Women and Girls Action Plan, which set out plans to increase police referrals to the Crown Prosecution Service. Thanks to the work of the police in conjunction with government, progress is being made with the volume of convictions for sexual offences excluding rape now at the highest level ever.
Action has also been taken to protect more victims through national roll-out of the domestic violence disclosure scheme, known as 'Clare's Law', and nearly £40 million of funding for specialist local support services and national helplines has been ring-fenced, including more than 80 independent sexual violence advisers.
The Home Secretary is leading a national oversight group to implement HM Inspector of Constabulary's recommendations on improving the police response to domestic abuse, and recently launched a consultation on whether the current law on domestic abuse needs to be strengthened to offer better protection to victims.
Victims Minister Mike Penning said:
Women who experience these devastating crimes deserve the best chance to get the help they need, and ultimately justice.

These new centres will give more victims of rape or sexual abuse the expert help they need to recover from what is truly a horrendous experience. Victims need the best support to get their lives back on track which is why these centres are so important.
Following the coalition agreement new centres have been established across the country in Reading, Avon and Somerset, Preston, Lincoln, Trafford, Northumbria, Leeds, Southend, Ipswich, Aberystwyth, Hereford, Exeter and Poole.
The announcement comes a day after Justice Secretary Chris Grayling unveiled a renewed commitment to victims with a major set of reforms. Next year, victims' rights to tell the court how their crime has affected them will be set out in statute; a new nationwide Victims' Information Service will be set up to ensure better information and support; and millions of pounds will be invested in improving the court experience.
Publicly-funded advocates will also undergo specialist training before taking part in sexual abuse or rape trials, which will make going to court easier and less distressing for victims.
Yvonne Traynor from the Rape & Sexual Abuse Support Centre said:
We cannot express how grateful we are to the Ministry of Justice for giving us the opportunity to open a new Rape Crisis Centre in Crawley. The opening of this new centre in the West Sussex area will increase the provision of support for women and girls who have suffered from sexual violence.
Fay Maxted of The Survivors Trust said:
We are delighted that funding has been awarded to establish a new rape support centre in Grantham. At the moment Grantham and the surrounding area does not have a specialist rape support centre, meaning that traumatised and vulnerable individuals who desperately need access to support can face long journeys, long waiting lists or may not be able to find support at all.
Notes to editors:
As part of our review of victims' services 'Getting It Right For Victims and Witnesses' we also outlined plans to generate up to £50 million extra a year for victims' services by making criminals pay more for their crimes. The Victims' Surcharge has been extended and increased so that criminals, not taxpayers, are contributing more to services that support victims. This will see £50million more each year spent on victims' services.
Since 2011 nearly £4 million has been provided to female Rape Support Centres in England and Wales, including funding to create the 13 new centres created through the Rape Support Fund. This has increased to £4.4 million in 2014 of which £300,000 has been set aside to allocate to 2 new or emerging centres.
The Female Rape Support Fund (2014 to 2016) is part of the wider cross governmental strategy on ending Violence against Women and Girls (VAWG) and its main purpose is to ensure that any female over the age of thirteen who has been a victim of rape or sexual violence at any point in their life, has direct support and access to services.

In August, Home Secretary Theresa May launched a consultation to look at strengthening the law by creating a new offence of domestic abuse. This would aim to make it clear that coercive and controlling behaviour in relationships is criminal. The consultation can be found at https://www.gov.uk/government/consultations/strengthening-the-law-on-domestic-abuse.

The Crawley centre will be managed by Croydon Rape Centre, which is a member of Rape Crisis England & Wales and Grantham will be run through the Survivors charity.

Minister for Women Nicky Morgan is available to consider broadcast media interviews on Monday 15 September. To make bids please call the Government Equalities Office press office on 020 7783 8300.

For more information on the announcement contact the Ministry of Justice press office on 020 3334 3546.
Published 15 September 2014