Two new non-executive members of Home Office supervisory board announced
The remaining two non-executive members of a new-look Home Office Supervisory Board have been announced.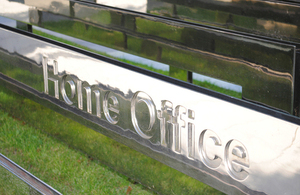 Dianne Thompson and John Allan have been appointed as part of the government-wide plans to strengthen boards by drawing on the expertise of highly-talented non-executive directors from the private, public and not-for-profit sectors. They will play a key role in shaking up Whitehall and making government more 'business-like'.
Home Secretary Theresa May said: 'These changes strengthen greatly the way in which the department is managed and will ensure that we focus on the right issues at the right time.
'The wealth of experience that non-executives will bring from outside government will support the board to deliver our key priorities effectively, ensuring that we continue to protect the public through the vital work we all carry out on their behalf.'
Dianne Thompson is chief executive of Camelot UK Lotteries Limited, operator of the UK National Lottery and John Allan is chairman of Dixons Retail plc. He is also a Senior Advisor to Deutsche Bank.
The pair will take up post formally on March 1.
Published 28 February 2011