Press release
Two men sentenced for illegal supply of defective medicines
Two men have pleaded guilty and have been sentenced for supplying defective medicines including a popular cough syrup.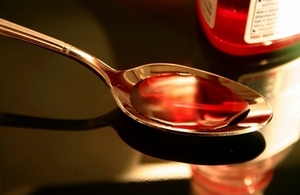 Today 2 men were sentenced at the Crown Court at Winchester for their roles in a joint venture to sell defective medicines.
Gary Rafferty, 51 years old, pleaded guilty and was sentenced to 5 months imprisonment, suspended for one year, for one count of possessing a controlled drug, one count of unlawful distribution of medicinal products, as well as one count of managing a company in contravention of a disqualification.
Graham Butler, 54 years old and director of VMS Solutions Limited, pleaded guilty and received a conditional discharge. His company was ordered to pay a fine of £10,000.
In 2012 Rafferty supplied Butler with quantities of Buttercup Syrup, a children's cough remedy, knowing that it was defective and due to be destroyed. Butler, as VMS Solutions Limited then sold the defective Buttercup Syrup on to retailers. It was subsequently seized from the retailers by MHRA
Rafferty also took possession of vast amounts of defective controlled drugs and failed to arrange for their destruction. Investigators from MHRA seized over 4,000 litres (the equivalent of 400,000 doses) of liquid Tamazepam and Diazepam (class c drugs) as well as over 23 litres of diazepam syrup.
Alastair Jeffrey, MHRA Head of Enforcement said:
MHRA is responsible for protecting public health and we will continue to seek out and prosecute those who recklessly endanger public health by distributing medicines illegally.

Medicines are subject to strict regulatory control to ensure their quality and safety meets the required standards; this protects and enhances the health of UK patients.
Background
The Medicines and Healthcare products Regulatory Agency (MHRA) is responsible for regulating all medicines and medical devices in the UK by ensuring they work and are acceptably safe. All our work is underpinned by robust and fact-based judgements to ensure that the benefits justify any risks. MHRA is a centre of the Medicines and Healthcare products Regulatory Agency which also includes NIBSC and CPRD. The Medicines and Healthcare products Regulatory Agency is an executive agency of the Department of Health.
Media enquiries
News centre
MHRA
10 South Colonnade
London
E14 4PU
Email newscentre@mhra.gov.uk
During office hours: 020 3080 7651 (08:30 - 17:00)
Out of office hours: 07770 446 189 (17:00 - 08:30)
Office hours are Monday to Friday, 8:30am to 5pm. For real-time updates including the latest press releases and news statements, see our Twitter channel at https://www.twitter.com/mhrapress
Published 30 September 2015