Press release
Two Doncaster men jailed and £200,000 seized in illegal waste case
On 14 May 2014, Phillip Slingsby of Hadds Lane, Thorne, Doncaster and Robert Spencer of Oak Farm, Finningley, Doncaster were sentenced at Hull Crown Court.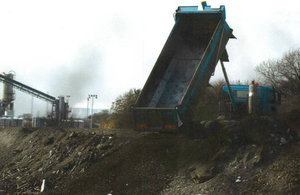 The offences relate to illegal waste activities that occurred between 2008 and 2010 at Middleton Quarry, Pollington and then at Wroot Road, Doncaster.
Phillip Slingsby, aged 42, was sentenced to a term of 12 months imprisonment, ordered to pay a contribution towards prosecution costs of £20,000 and disqualified as a director for 6 years. He was also subject to a confiscation order in the amount of £200,000 under the Proceeds of Crime Act 2002 made at an earlier court hearing. No separate penalties were imposed on Mr Slingsby's associated companies Slingsby Plant Hire Limited and Slingsby Quarries Limited in view of their financial status and the fact that one of the companies has been dissolved whilst the other company is in liquidation.
Robert Spencer, aged 63, was sentenced to a term of 9 months imprisonment, suspended for 2 years and ordered to pay £20,000 in confiscation under the Proceeds of Crime Act 2002.
Charges were brought by the Environment Agency under the Environmental Protection Act 1990 and the Environmental Permitting (England & Wales) Regulations 2007 and 2010. Throughout the course of this complex case the Environment Agency worked closely with the Insolvency Service and its own in-house Accredited Financial Investigators to secure orders under Proceeds of Crime Act 2002 and the Company Directors Disqualification Act 1986.
Operations at Middleton Quarry, Pollington
Prosecuting for the Environment Agency, Counsel Mr Christopher Stables told the Court that between December 2008 and April 2009, officers from the Environment Agency visited the Middleton Quarry, Pollington and observed tipping taking place on a large scale. The quarry did not benefit from an environmental permit that would authorise such an activity to take place. In fact, a permit would never have been granted given the proximity of the site to 3 Yorkshire boreholes used for the abstraction of drinking water.
Following initial discussions with Mr Slingsby about concerns over the activities taking place, a surveillance operation took place. Officers observed waste being tipped and levelled on an industrial scale. The waste comprised of wood, vegetation, plastics, asbestos sheeting and other non-inert waste. Sample testing results revealed the presence of chrysotile asbestos and asbestos fibres. The nature of the waste tipped posed a significant pollution risk to the nearby water sources.
In total 127,000.00 tonnes of waste were deposited at Middleton Quarry. Lawful disposal would have cost in excess of £440,000.
Operations at Wroot Road, Doncaster
Mr Slingsby then moved operations to 36 Acre Field, Wroot Road, Doncaster, a site owned by Mr Robert Spencer. Between January 2009 and October 2009 Robert Spencer allowed Phillip Slingsby to tip thousands of tonnes of waste on his land when there was no environmental permit in force. It is unlikely that a permit would ever have been granted due to the proximity of the site to water sources, the potential risks posed to ground water and the lack of planning permission.
In September 2009, officers from the Environment Agency attended Wroot Road and observed tipping taking place. It was clear to officers that this was a large scale operation. Officers told Mr Spencer that tipping on land was illegal and that it should cease immediately. Further warnings were given and followed up in writing. Mr Spencer claimed that Phillip Slingsby was responsible for the deposit of the waste.
Further visits to the site revealed evidence that a large hole had been excavated and then backfilled with waste. The waste included brick, rubble, soil, plastics and green waste, metal, wood and tyres.
In October 2010 officers from the Environment Agency conducted a raid of the Wroot Road site. A series of 'trial pits' were dug at the site from which samples confirmed the presence of asbestos on site. Waste transfer notes and invoices seized suggested that the defendants made considerable financial gains from operating the site without the benefit of an environmental permit and handling the waste incorrectly.
In total around 72,000 tonnes of waste was deposited at Wroot Road.
Comments made in passing sentence
His Honour Judge Jack stated that the defendants had both acted in a way that had "put the public at serious risk." The offences were further aggravated by the fact that they were deliberate, committed in environmentally sensitive areas and financially motivated. In passing sentence, he accepted that Robert Spencer was less culpable than Phillip Slingsby. In both cases, the custody threshold was passed and, whilst the sentence imposed on Robert Spencer could be suspended, such was the seriousness of the case, it was appropriate for Phillip Slingsby to serve an immediate term of imprisonment.
Speaking after the case, an Environment Agency officer in charge of the investigation said:
This was a large scale waste operation where the defendants allowed waste to be brought onto land without being permitted to do so. Illegal waste sites have the potential to cause serious pollution incidents or harm human health, and this prosecution demonstrates that we take waste crime very seriously and will not hesitate to prosecute if necessary, to protect the environment and local communities.
Published 16 May 2014