Twin Monastery of Wearmouth-Jarrow is UK's next bid for World Heritage status
Twin Monastery of Wearmouth-Jarrow is UK's next bid for World Heritage status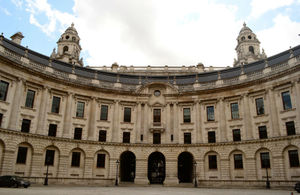 The Twin Monastery of Wearmouth-Jarrow, founded in the late seventh century AD in the north-east of England, has been put forward today by Culture Secretary Jeremy Hunt as the UK's latest nomination for World Heritage site status.
If successful the site would join The Tower of London, Edinburgh, and the Giant's Causeway on the existing list of 28 UK World Heritage sites, and worldwide would be among a select group that includes the Great Barrier Reef, Venice and Machu Picchu. UNESCO will examine the nomination and make a final decision next year.
Jeremy Hunt said:
"The Twin Monastery of Wearmouth-Jarrow looking out on to the North Sea coast, had a profound influence on learning in the Middle Ages and played a huge part in the emergence of European identity. The outstanding library and teaching assembled at Wearmouth-Jarrow by founder Benedict Biscop was unlike anything else available in its day and it became the primary intellectual centre of Western Europe.
"The Monastery's cultural reputation owes much to the work of the well known scholar Bede a member of the community, born locally, whose writings helped establish England's identity. Parts of the monastic churches that are still in use today date from Bede's lifetime. I want to thank the bid partners across Sunderland and South Tyneside and all the people and organisations that have worked hard to develop the nomination document. I'm delighted to give the twin monastery my full support in its bid for World Heritage status and hope we are successful in securing another World Heritage Site in the UK."
Chair of English Heritage Baroness Andrews said:
"The twin monastery of Wearmouth-Jarrow is a milestone in the development of Christian Europe. Its physical remains provide a visible link between the past world of Classical antiquity and the coming world of the European Middle Ages and they are exceptional both in quality and quantity. Through the portal of Wearmouth and Jarrow, the skills and learning of late antiquity were not only translated to the northern limits of the civilised world, but were developed and exported back to Europe and beyond. English Heritage is proud to be part of this bid for World Heritage Status as custodian of St Paul's Monastery, Jarrow, and as adviser to DCMS and the Wearmouth-Jarrow Partnership."
Rt Revd Mark Bryant, Bishop of Jarrow and Wearmouth-Jarrow Partnership Chair, said:
"The submission of the Nomination of the Twin Monastery of Wearmouth-Jarrow for inclusion on the World Heritage List is a massively significant milestone in more than a decade's partnership working.   The organisations and communities responsible for this historic site have put an enormous amount of work in to seek recognition of Wearmouth-Jarrow as a World Heritage Site, to celebrate the vision and drive of its founder, Benedict Biscop. 
"He created a remarkable, forward-looking centre of learning, creativity and international cultural exchange.  The new architectural ideas and monastic plan he introduced can still be seen at the sites today, and through the legacy of Bede, his vision lives on.  On behalf of the Wearmouth-Jarrow Partnership, and the volunteers and communities who help look after the sites, I am delighted to celebrate the submission of the Nomination to commemorate this great cultural institution."
Notes to Editors
More information about the Twin Monastery of Wearmouth-Jarrow can be found at the Wearmouth-Jarrow website.

The nomination for the Twin Monastery of Wearmouth-Jarrow, fulfils the UK's commitment to support the World Heritage Committee's aim of increasing representation on the World Heritage List, particularly in the category of international cultural contribution of the European Early Middle Ages.

The concept of World Heritage Sites is at the core of the World Heritage Convention, adopted by UNESCO in 1972, to which over 180 nations belong. Through the Convention, UNESCO seeks to encourage the identification, protection and preservation of the cultural and natural heritage around the world considered to be of outstanding value to humanity.

Nominations for inscription on the World Heritage List are made by the appropriate States Parties. They are subject to rigorous evaluation by expert advisers to the World Heritage Committee: The International Council on Monuments and Sites (ICOMOS) for cultural sites, and/or the World Conservation Union (IUCN) for natural sites. Decisions on the selection of new World Heritage Sites are taken by the World Heritage Committee at its annual summer meetings.

Inclusion in the World Heritage List is essentially honorific but brings enhanced protection through the UK planning framework. A prerequisite for World Heritage Site status is the existence of effective legal protection and the establishment of firm prospect of management plans agreed with site owners to ensure each site's conservation and preservation.

The Twin Monastery of Wearmouth-Jarrow was included in the 1999 UK Tentative List. This will be the last nomination that goes forward from this Tentative List. The Government is in the process of formulating a new Tentative List, and the list of the 38 places that have put themselves forward to be considered for this can be found in DCMS press release 071/10 - 7 July 2010.

The Government has conducted a review of its UK World Heritage Policy. The aim was to help determine whether the UK should continue to nominate sites for World Heritage status and what more we should do for existing sites. The review considered the UK's approach to World Heritage, the costs and benefits of World Heritage status, informed by research undertaken by Pricewaterhouse Coopers (PWC), on the management, protection and funding of sites, and the policy for future nominations.

An independent expert panel is considering all the bids for inclusion on the new Tentative List. More information about the panel members can be found in DCMS press release 111/10 - 30 November 2010.

The Government proposes to submit a new Tentative List to UNESCO in 2011, with a view to re-commencing nominating from 2012. Following this, it proposes to continue to make nominations to the World Heritage List, though not necessarily every year.

The UK's World Heritage Sites are currently: * Castles and Town Wall of King Edward in Gwynedd * Durham Castle and Cathedral * Giant's Causeway and Causeway Coast * Ironbridge Gorge * St Kilda * Stonehenge, Avebury and Associated Sites * Studley Royal Park including the Ruins of Fountains Abbey * Blenheim Palace * City of Bath * Frontiers of the Roman Empire: Hadrian's Wall; Frontiers of the Roman Empire; the Antonine Wall * Palace of Westminster, St Margaret's Church and Westminster Abbey * Canterbury Cathedral, St Augustine's Abbey and St Martin's Church * Henderson Island * Tower of London * Gough and Inaccessible Islands * Old and New Towns of Edinburgh * Maritime Greenwich * Heart of Neolithic Orkney * Blaenavon Industrial Landscape * The Historic Town of St George and Related Fortifications, Bermuda * Derwent Valley Mills * Dorset and East Devon Coast * New Lanark * Saltaire * Royal Botanic Gardens, Kew * Liverpool - Maritime Mercantile City * Cornwall and West Devon Mining Landscape * Pontcysyllte Aqueduct and Canal
Press Enquiries: 020 7211 2210
Out of hours telephone pager no: 07699 751153
Public Enquiries: 020 7211 6000
Published 21 January 2011