Twelve new havens for wildlife announced
New nature zones covering hundreds of thousands of hectares are to be set up across England, Environment Secretary Caroline Spelman revealed today.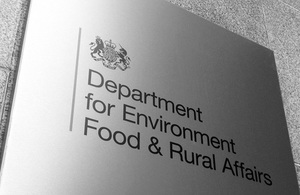 The 12 Nature Improvement Areas (NIA) announced today will each get a share of £7.5 million to create wildlife havens, restore habitats and encourage local people to get involved with nature. 
From creating heathland on brownfield sites, a seven hectare lagoon and a network of wildlife-friendly dewponds to improving the conditions for birds, butterflies and amphibians, these 12 sites will provide the space for our wildlife to thrive.
Local groups have worked together on proposals for how they intend to use the money to improve their local nature sites for the enjoyment of the public and the benefit of wildlife.  The 12 successful NIAs have been chosen from among 76 groups who competed to receive funding for their project.
Mrs Spelman said:
"Each of these projects has something different to offer - from the urban areas of Birmingham and the Black Country to the rivers and woods of North Devon; from marshes, coalfields and wetlands to woodland and arable chalkland and grassland. 
"The exciting wildlife projects are the result of different organisations all working together with a common purpose - to safeguard our wildlife for generations to come."
The NIAs were awarded funding by a panel of experts, led by Professor Sir John Lawton, and were a key commitment of the Natural Environment White Paper.
Sir John Lawton said:
"For more than 40 years I have had the privilege of working on nature-conservation issues in the UK, both as a professional scientist, and in the voluntary sector.  Never in all that time have I seen the sort of creativity, partnership working and sheer enthusiasm that the NIA competition has released in consortia that want to deliver more effective conservation for England's wonderful wildlife in their area.  Choosing 12 winners from 76 bids was an awfully difficult task, but I believe we have 12 outstanding NIAs, each unique in what it is setting out to achieve, for the benefits of people and wildlife."
 The 12 NIAs will be:
Birmingham and the Black Country Living Landscape: includes urban, wetland, river and heath habitats.  It will create heathland on brownfield sites and 40 hectares of new native woodland;
Dark Peak: includes moorland and woodland in the Peak District National Park.  It will restore habitats such as upland heathland and create 210 hectares of native woodland;
Dearne Valley Green Heart: is mostly on farmland and former mining settlements with woodland and wetland.  It will restore the River Don floodplain and create new wetlands and woodlands
Greater Thames Marshes: includes agricultural marsh and urban habitats.  It will create and enhance grazing marsh, salt marsh and mudflat habitats;
Humberhead Levels: straddling Yorkshire, Lincolnshire and Nottinghamshire, it is mainly wetland, lowland and peat habitats.  It will create or restore at least 1,427 hectares of wetland habitat;
Marlborough Downs: this is predominantly a farmer-led partnership looking to restore chalk and grassland habitats and increase the numbers of farmland birds as well as creating a network of traditional clay-lined dewponds to act as wildlife havens;
Meres and Mosses of the Marches: incorporates wetlands, peat bogs and ponds in Cheshire.  It will aim to reduce diffuse pollution by working with farmers, improve peatlands and restore wildlife areas around the River Perry;
Morecambe Bay Limestones and Wetlands: the most northerly NIA, this consists of limestone, wetland and grassland habitats.  It will restore coast and freshwater wetlands and create 200 hectares of woodland, planting 10,000 native trees and develop habitat for six species;
Nene Valley: within the River Nene regional park, this project will work with farmers to restore habitats and restore tributaries and reaches of the River Nene;
Northern Devon: this incorporates river, woodland and grassland.  The project will recreate and restore 1,000 hectares of priority habitat and restore the River Torridge so that it can support the critically endangered freshwater pearl mussel;
South Downs Way Ahead: encompasses key chalk sites of the South Downs National Park.  The NIA will restore 1,000 hectares of chalk grassland and encourage the return of the Duke of Burgundy butterfly and several species of farmland birds; and
Wild Purbeck: is a variety of river, wetland, heath and woodland habitat as well as the largest onshore oil field in Western Europe.  This NIA will introduce livestock to manage heathland , restore wetland and create or restore 15 ponds as well as creating 120 hectares of new woodland and a new seven hectare saline lagoon.
Nature Improvement Areas were a flagship policy contained in last year's Natural Environment White Paper 'The Natural Choice' which set out  aims to improve the quality of the natural environment across England, halt the decline in habitats and species, and strengthen the connection between people and nature.  It committed Government to supporting the natural environment to function more effectively through joined-up action at local and national levels to create an ecological network which is resilient to changing pressures.
Notes
Defra launched a competition to fund an initial 12 NIAs in July 2011, judged by a panel led by Professor Sir John Lawton.  76 applications were received and the panel selected 20 to go through to a second stage of the competition.  15 applicants were invited to give presentations to the panel and a final 12 NIAs were selected to receive government funding.  The 12 successful partnerships will start work in April 2012.
The NIA grant scheme from the Defra family is £7.5 million over 2012-2015.
The 12 government funded NIAs will be delivered by a variety of partnerships of local bodies, including ones led by farmers, NGOs, AONBs and a National Park.
The Natural Environment White Paper set out Government's ambition to see further NIAs wherever the opportunities or benefits are the greatest driven by local knowledge.  The option set out in NEWP for local authorities to recognise an NIA in their local plan is a continuation of current planning policy, not an extension of it.  It is not the intention for NIAs to stifle sustainable development.   It is a matter for local authorities to decide what weight they wish to give to NIAs in their local plans
More information on NIAs is available on the Natural England website: http://www.naturalengland.org.uk/nia
More information on the Natural Environment White Paper is available on the Defra website: http://www.defra.gov.uk/environment/natural/whitepaper/
Published 27 February 2012