News story
Turning the Games into Gold: economic boost from London 2012
Four year target of £11 billion smashed in two years and record levels of Foreign Direct Investment in 2013/14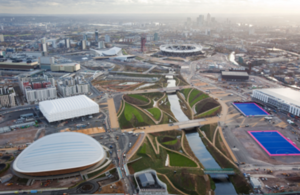 The UK economy has seen a trade and industry boost in excess of £14 billion following the London 2012 Olympic and Paralympic Games, beating the four year target of £11 billion in half the time.
As the Commonwealth Games opens in Glasgow, the second annual report on the successful legacy from the London 2012 Olympic and Paralympic Games has been released. It highlights how hosting major sports events can bring about benefits that improve people's lives and help sell the best of Britain to the world.
The £14.2 billion comes from businesses securing contract wins, additional sales and new foreign investment in the two years since UKTI's British Business Embassy at Lancaster House hosted the largest programme of business events held in Britain during London 2012.
Prime Minister David Cameron said:
Part of our long-term economic plan is about promoting every part of our country to the world and Glasgow's Commonwealth Games will give us another fantastic platform to do this.

It follows on from London 2012, which was not just an amazing sporting event, but also a great opportunity to secure a lasting economic and sporting legacy for the whole UK.

This government will continue to work on behalf of every hardworking business in the UK to drum up trade, encourage investment and pave the way for growth so we can generate jobs, pay our way in the world, and create stability, security and a brighter future for our country.

I am confident we can build on our experience in London and make Glasgow 2014 so much more than just an amazing sporting event.
The announcement coincides with news that British companies have reported an expected £7 billion of overseas business in Commonwealth countries as a result of UKTI support.
On Sunday UKTI published record-breaking Foreign Direct Investment results for 2013/14, with 1,773 projects spread across the UK and 14 per cent more than the previous year, creating 66,390 jobs – the highest in over a decade – and safeguarding 44,971.
Secretary of State for Culture, Media and Sport Sajid Javid said:
The legacy from the London 2012 Olympic and Paralympic Games is going from strength to strength with the economic, sporting and social benefits being felt by communities across the country. I am sure that the legacy from Glasgow 2014 will build on this further and that the Commonwealth Games in Glasgow will be a fantastic event that inspires many to get involved in sport.
Further information
The Olympic and Paralympic legacy: Inspired by 2012 – second annual report can be downloaded here
Published 23 July 2014