World news story
Turks and Caicos' bullish fiscal performance continues in Q3
The Turks and Caicos Islands Government (TCIG) generated an operating surplus of US$16.7m in its third quarter ending December 2014.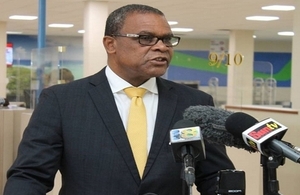 The surplus, announced by Minister of Finance Washington Misick on 4 February 2015, was well ahead of the budgeted $5.2m surplus for the October-December 2014 quarter, and is largely accounted for by the strong growth in visitor numbers to the UK Overseas Territory.
"It is satisfying that our revenue performance has exceeded expectations, while the costs of Government are below budget," said the Honourable Washington Misick, TCI Minister of Finance.
"My Government remains committed to prudent fiscal management, ensuring improvements in revenue collection and expenditure control measures continue to enhance its financial performance, while at the same time providing value for money and more efficient and effective public services.
"Special recognition must go to the hard work of our people in the Ministry of Finance and across the public sector in implementing enhanced compliance measures and the continued reinforcement of the Public Finance Management and Public Procurement Ordinances."
Government income for the quarter was $55.9 million, some 15% above budget, and 23% above the $45.4 million revenue taken in the same period in financial year 2013-14. Year to date recurrent revenue is $178.3 million, $25.5 million or 17% above the budgeted outturn of $152.8. It is $39.2 million or 28% above the results of the same quarter last year.
Government control of its expenditure was again demonstrated with costs coming in at 9% below budget at $37.5 million, significantly lower than the $39.2m spent at the same time last year. Year to date Recurrent Expenditure outturn totalled $114.3 million, $12.4 million or 10% ahead of budget.
The year to date results show a government operating surplus of $60.6 million for the first three quarters of financial year 2014-15, some $39.4m above the budgeted surplus. This positive trend is demonstrated by this year's figure being well ahead of last year's surplus of $16.3 million.
Published 4 February 2015