World news story
TTIP student essay competition completed
We now have the winners of the TTIP student essay writing competition!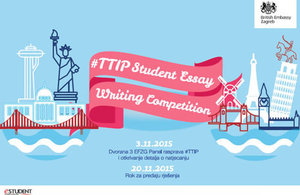 The British Embassy Zagreb, in collaboration with eSTUDENT and the Faculty of Economy, recently ran a student essay competition on TTIP. Students from across universities in Croatia were invited to participate and offer their opinion on the Transatlantic Trade and Investment Partnership (TTIP).
We received 141 applications out of which we selected 41 for the final competition which that took place on 21 November. Essays could cover the political, economic, social, geostrategic or legal aspects of TTIP as well as the impact it could have for the future of transatlantic trade between the EU and US.
The examining panel has decided on the following winners:
The first prize goes to Andrian Petković Keindl. Andrian has won a paid study trip to London to meet with government experts working on TTIP and other aspects of foreign policy.
The second prize – an iPad - goes to Marko Božac.
The 3rd prize – IELTS test free of charge – was won by Riki Pahlić.
The prize award ceremony will be on 13 January, 2016. All student essay competition participants will receive certificates of participation. More details via e-mail.
Thanks to all for participating and sharing your views and analysis with us!
Published 26 October 2015
Last updated 14 December 2015
+ show all updates
TTIP student essay competition completed
First published.