Troops in Afghanistan get new lightweight rifle magazines
More than 100,000 new state-of-the-art lightweight SA80 rifle magazines have arrived in Afghanistan to be used by troops fighting on the front line.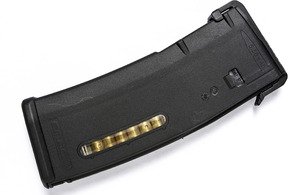 The 30-round Magpul EMAG magazine is around half the weight of a standard metal magazine and helps reduce the weight that soldiers have to carry in their kit.
Made from a polymer, the EMAG weighs 130g compared to its metal equivalent of 249g. Troops carry up to 12 magazines, so this change means each carries around one kilogramme less weight in total than before.
Although it is lighter than others, the EMAG is robust; it's durability is enhanced by an easily detachable cover to help protect against dust and sand while being carried - meaning fewer need replacing.
A clear window in the magazine allows troops to easily monitor how much ammunition they have left, helping them ensure they have sufficient levels at critical points in battle.
Corporal Stevie Japp of The Argyll and Sutherland Highlanders, 5th Battalion The Royal Regiment of Scotland, said:
The new magazines are a great bit of kit. The little window lets me see how many rounds I have left at a glance and it's a lighter and more robust design. The dust cap is a useful addition in the dusty Afghan conditions as it helps keep ammo clean.
Minister for Defence Equipment, Support and Technology, Peter Luff, said:
We are committed to ensuring our Armed Forces have world class equipment, including making use of the latest technology to reduce the weight of our troops' personal kit. As well as being lighter for troops to carry, these new magazines are also stronger and easier to use.

This contract with Level Peaks represents excellent value for money, allowing us to provide our Armed Forces with improved equipment at lower cost to the taxpayer.
In total over a million EMAGs will be sent to Afghanistan under the four-year, £13m contract with Hereford-based distributors Level Peaks Associates.
Published 19 January 2011