Trial of Charles Taylor at the Special Court for Sierra Leone
Minister for Africa Henry Bellingham has updated Parliament following the judgement against the former President of Liberia Charles Taylor.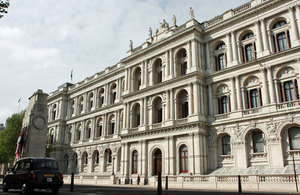 "On 26 April the Special Court for Sierra Leone (SCSL) handed down its judgment against Charles Taylor, former President of Liberia. The SCSL found Taylor guilty of all 11 charges against him, including crimes against humanity and war crimes. The judges were unanimous in concluding that Taylor aided, abetted and helped plan the commission of all these crimes through the provision of significant operational, military and moral support.
This verdict is a landmark judgment in the fight against impunity. Taylor is the first Head of State since Nuremburg to be found guilty by an international tribunal for crimes against humanity and war crimes. It is a salient reminder of the importance of accountability, especially in the current climate of events in Syria. We hope that this judgment provides some comfort to the victims whose horrific experiences were recorded by the Court.
My Right Honourable Friend The Foreign Secretary led international support for the verdict with his press statement on 26 April. Prosecutor Brenda Hollis applauded the verdict and noted it provided some measure of justice to the victims of Taylor's crimes. In her words this verdict was also a reminder that 'no one was above the law'. The UN Security Council also released a statement reinforcing the significance of the verdict.
The International Tribunals (Sierra Leone) Act 2007, which allows for SCSL sentences to be enforced here, was passed with wide cross-party support in June 2007. During the passage of the Bill it was made clear, and accepted by the House, that Charles Taylor would serve his sentence in the UK and that Her Majesty's Government would meet the associated costs directly. The costs of sentence enforcement are better controlled if they are managed and paid for directly by the country which is enforcing the sentence.
Taylor will be sentenced on 30 May. The verdict and sentence will be subject to an appeal. The Plenary of judges will meet soon to finalise an appeals timetable which is likely to take around 12 months to complete. This will have financial implications as the Court already has a financial shortfall for 2012 despite the UK's recent contribution of £600,000 and the UN subvention grant agreed late last year. We will continue to encourage other States to contribute to the Court, and to consider making voluntary contributions to fund the Residual Special Court for Sierra Leone, to ensure its legacy is protected.
If there is no appeal, or if Taylor is unsuccessful in his appeal, the President of the SCSL is expected to ask the UK to enforce his sentence. The Foreign and Commonwealth Office will continue to work with UK Border Agency and the Ministry of Justice, National Offender Management Service to ensure that all necessary arrangements are in place for any transfer to the UK and detention on arrival."
Published 16 May 2012