Press release
Treatment for severe 'Clostridium difficile' infection with new clinical trial
Pre-clinical studies of injections of polyclonal antibodies to treat severe 'C. difficile' infections show great promise.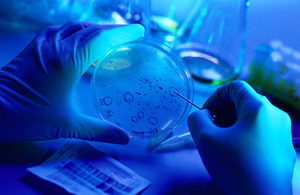 A clinical trial will soon look at whether injections of polyclonal antibodies (PolyCAb) can be used to treat severe infections caused by 'Clostridium difficile' bacteria. Pre-clinical studies have shown great promise and this next stage is part of the legislative process of getting therapies into mainstream clinical use.
This work is an ongoing collaboration between Public Health England (PHE) and MicroPharm Limited since 2008. MicroPharm, along with PHE and the University of Leeds, have been awarded £2.1 million grant from the Technology Strategy Board (TSB) to conduct Phase 1 and Phase 2a clinical trials.
'C. difficile' is a bacterium present in the gut of up to 3% of healthy adults and up to 60% of babies where it lives harmlessly. It causes problems for patients in hospitals where antibiotics kills both good and bad bacteria in the gut. This disruption to the gut flora allows 'C. difficile' to multiply, produce toxins and cause its characteristic symptoms of diarrhoea, intestinal inflammation, and sometimes serious illness.
The current circulating strains of 'C. difficile' produce more than 30 variants of 2 different toxins, all of which will be targeted by the polyclonal antibodies. Infections with these bacteria have approximately 10% mortality rate and a high recurrence rate with around 25% of patients requiring further treatment.
Dr Clifford Shone, Scientific Leader at PHE, said:
This project has the potential to contribute significantly to patient outcomes and to address the critical healthcare needs of especially vulnerable people. Not only does PHE have a role in health improvement and protection but also in innovation and developing potential therapies for unmet needs of which this is one.
Polyclonal antibodies are mixtures of antibodies that can rapidly neutralise the toxins produced by harmful bacteria in the body. They are called 'polyclonal' as they are able to bind and neutralise these toxins in different ways. Although they have been used in medicine for some years this is the first time that they have been considered for the treatment of severe 'C. difficile' infections.
Professor Mark Wilcox, lead on 'C.difficile' infection at PHE and Professor of Medical Microbiology at the University of Leeds who will lead the second phase of the clinical trial from the University of Leeds said:
This is a very exciting collaboration between both public and private organisations, which is producing some very fruitful and interesting work. 'C. difficile' infection can cause devastating disease, which may be very debilitating for patients. Treatment options for severe infections are very limited, and so it would be a real breakthrough to make a new option available for such cases.
Professor John Landon, Chairman of MicroPharm said:
We are very grateful for the support of the Biocatalyst fund from the TSB. The grant enables MicroPharm and our partners to advance our novel therapeutic through to a Phase 2a clinical trial within a 3 year period.
Ends
Notes to editors
Phase II studies are sometimes divided into Phase 2A and Phase 2B.
Phase 2A assesses how many drugs should be given.
Phase 2B examines how well the drug works at the prescribed dose/s.
Some trials combine Phase I and Phase II and test both efficacy and toxicity.
Infections with 'C. difficile' are currently treated using antibiotics. The annual burden of this disease has been estimated at around £500 million to the NHS and US$4.8 billion to the acute-care facilities in the United States.

The mortality rate of patients with a 'C. difficile' infection is 10%.

The PolyCAb polyclonal antibodies in the clinical trial are of ovine origin.

PHE and MicroPharm Limited have been collaborating since 2008 to explore polyclonal antibody therapies for this infection. The antibodies to undergo Phase 1 and Phase 2a trials will be administered parenterally (by injections) to treat severe infections. In addition, PHE and MicroPharm are also developing oral antibody formulations to treat recurrent 'C. difficile' infections. Five families of recently filed patents underpinning various aspects of this technology include 3 patents (PCT/GB2010/050288, PCT/GB2010/052035, PCT/GB2011/051910) jointly filed by PHE and MicroPharm, and 2 patents (PCT/GB2013/050886 and PCT/GB2008/050449) filed by PHE.
Public Health England (PHE)'s mission is to protect and improve the nation's health and to address inequalities through working with national and local government, the NHS, industry and the voluntary and community sector. PHE is an operationally autonomous executive agency of the Department of Health. www.gov.uk/phe Follow us on Twitter @PHE_uk
MicroPharm Limited (MicroPharm) is a privately held company based in West Wales. It was founded in 1998 by Professor John Landon and Dr Ruth Coxon. The company's core expertise lies in the raising of ovine antisera containing high levels of specific antibodies directed against toxic molecules and the subsequent purification and modification of such antibodies to produce a range of immunotherapeutic products for clinical use. All are designed to treat acute, life-threatening emergencies, have been developed at the request of the medical profession and are required urgently either because no alternative exists or because any alternative is ineffective and/or unsafe.
The University of Leeds is one of the world's top 100 universities. Founded in 1904, its origins go back to the 19th century with the Leeds School of Medicine in 1831 and then the Yorkshire College of Science in 1874. It is one of the largest higher education institutions in the UK and a member of the Russell Group of research-intensive universities. The 2008 Research Assessment Exercise showed the University of Leeds to be the UK's eighth biggest research powerhouse.
Infections press office
PHE press office, infections
61 Colindale Avenue
London
NW9 5EQ
Published 29 November 2013