Press release
Treasury announces plans to find £1.5 billion savings across PFI contracts
Plans have been announced to deliver £1.5 billion savings across the 495 operational Private Finance Initiative (PFI) projects in England.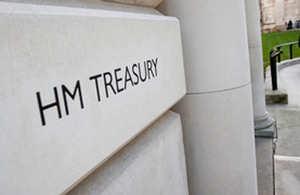 A plan to deliver £1.5 billion savings across the 495 operational Private Finance Initiative (PFI) projects in England has been announced by the Commercial Secretary to the Treasury, Lord Sassoon, and today. These savings can be fully recycled back into frontline services by the contracting authority.
The government is committed to ensuring taxpayers get value for money from PFI contracts.  Today's announcement is part of an ongoing programme of reform to improve the cost effectiveness and transparency of PFI contracts. 
The plans follow pilot projects, at the Queen's Hospital in Romford and two Ministry of Defence pilots, at Corsham and the Welbeck Defence Sixth Form College, which have confirmed savings opportunities of around 5 per cent of annual payments.
The Efficiency and Reform Group in Cabinet Office, supported by experts from the Treasury and Local Partnerships, will now lead a programme to secure the savings across the public sector. 
The programme will bring together ongoing major government supplier renegotiations with project level savings initiatives being delivered by local contract management teams across the country.
Updated guidance and advice on how savings can be made will be published on the Treasury website to support all PFI contract holders.
The savings pilots have confirmed that the three main areas of savings in operational PFI contracts are:
effective management of contracts, for example, through reducing wasteful energy consumption and through the public sector sharing in savings on insurance
making efficient use of space, for example, from subletting or mothballing surplus building space
reviewing soft service requirements, so that the public sector does not buy more than it needs when specifying facilities management such as window cleaning and frequency of decoration
The government has already taken other significant steps to improve the cost effectiveness and transparency of PFI, including:
at the Spending Review, the government abolished PFI credits to create a level playing field for all forms of public procurement
in April, the government introduced new guidance to departments to strengthen the approvals process of all projects. All major projects outside of a department's delegated authority now need to go through three approval points
this month for the first time the government included PFI liabilities in the unaudited Whole of Government Accounts.
The government will continue to look for ways to deliver the best possible value for money from existing and future PFI contracts.
The Department for Education have also announced today, a major procurement programme for new privately financed schools, the Priority School Building Programme. Lessons from the savings pilots will be factored into this and other future procurements from the very beginning. 
The Chancellor, George Osborne, said:
We are determined to reform PFI contracts to protect the taxpayer. Today's announcement, to find savings of £1.5 billion, is one of a number of ambitious steps to secure better value for money in PFI contracts. This is just the beginning and we will continue to look for innovative ways to improve the delivery of private finance in the public sector.
The Commercial Secretary to the Treasury, Lord Sassoon, said:
We have identified every opportunity to find savings, tackling wasteful practice and gold plating in PFI contracts. The potential savings will vary from contract to contract, but the results are promising and we will support the wider public sector to find savings in complex contracts.
I am confident that we will achieve our aim of delivering £1.5 billion savings. These savings will be available in full to recycle into frontline services.
Minister for the Cabinet Office, Francis Maude said:
Savings from Private Finance Initiatives form an important part of this government's ongoing challenge to reduce cost and waste so that we can protect vital jobs and services on the front line.
With this new programme we plan to save £1.5bn from PFI contracts. We will need to be tough with ourselves and tough with our suppliers if we are to deliver these savings, but we have the discipline required to do so.
We are working hard to identify programme areas across government where there could be room for increasing efficiency while reducing overhead costs, so we can direct funds to support and maintain the services we all rely on.
Published 19 July 2011
Last updated 20 January 2014
+ show all updates
added links to 'Code of conduct for operational PFI/PPP contracts' and 'NAO report'; added attachment 'Additional information for local contracting bodies'
First published.