World news story
Travel advice for Besiktas JK v Liverpool football match
Advice for fans travelling to Turkey for Liverpool's match with Besiktas JK on Thursday 26 February 2015.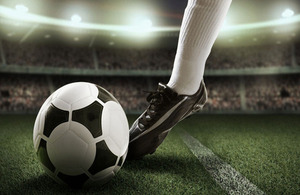 Date: 26 February 2015
Venue: Ataturk Olympic Stadium
Kick off time: (local time) 8:05 pm
As well as this advice, check out our travel advice for Turkey
Passports and visas
British passport holders need a visa to enter Turkey; you can get an evisa online before you travel, or for £20 at the visas booth when you arrive at the airport or border crossing in Turkey (please note that the visa on arrival service is likely to be phased out at some point in the near future).
your passport should be valid for at least 6 months from the date of entry into Turkey
the European Health Insurance Card (EHIC) isn't valid in Turkey, so travel insurance is essential,; even if you're only going for one night - it could save you a lot of money if you get into difficulties
it's illegal not to carry some form of photographic ID in Turkey; carry a photocopy of your passport with you at all times
if your passport is lost or stolen while you're in Istanbul then you'll need to get an Emergency travel Document (ETD) from the British Consulate General in Istanbul
Getting to the stadium
Istanbul police advise against using the Metro; alternative bus lines are available, you can find a list on the Stadium website
taxis from Taksim Square to the stadium will cost around 50-60 Turkish Lira and take 40 minutes (depending on traffic); make sure the taxi meter is switched on when you set off
At the match
entry to the stadium is through gate R in the south Tribune
access to the stadium can be slow; there will be ticket checks and body searches at the entrance
to avoid a last minute bottleneck you should get to the stadium early - doors will open at 6pm
In addition to items which would usually be prohibited in the UK, please note the following restrictions at the stadium:
no alcohol
no flags with poles
no flags or banners that indicate political statements.
no coins
no flares or fireworks
no megaphones or drums
no food or drinks, bottles, cans or glasses.
no belts, chains or any objects which can be thrown or used as a weapon
no lighters
Visiting supporters will be kept behind for a period after the match to allow the home fans to disperse.
Tips
generally crime levels are low, but street robbery and pick-pocketing are common in the major tourist areas of Istanbul; only carry what you need and leave spare cash and valuables in hotel safety deposits
it's an offence to insult the Turkish nation or the national flag, or to deface or tear up currency
smoking is prohibited on public transport and in other public areas like stadiums, playgrounds, cafes, bars, and restaurants; you can be fined if you're caught smoking in a designated smoke-free area
only drink bottled water; this is readily available from local shops, hotels etc.
Relevant British Embassy/Consulate address and telephone numbers
British Consulate General, Mesrutiyet Caddesi No.34, Tepebasi, Beyoglu, Istanbul
telephone: 0090 212 334 6400
Emergency services numbers
ambulance 112
police 155
fire 110
Further information
Please be aware of the possibility of demonstrations in Istanbul
Demonstrations regularly take place across Turkey, particularly in the area around Taksim Square in Istanbul.
You should remain vigilant and avoid areas where demonstrations are taking place.
Published 27 January 2015