Press release
Transport statistics 16 June 2012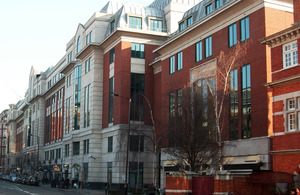 The Department for Transport has published transport statistics on:
See details on all recent transport statistics releases.
These official statistics are published according to arrangements approved by the UK Statistics Authority.
Following the department's withdrawal of provisional congestion statistics for individual motorways and major A roads on June 2 due to an error being identified in the data for one of the routes, further investigation has found that more checks need to be carried out on the data. It is currently anticipated that the statistics will be re-instated from Autumn 2011, an exact date will be confirmed as soon as possible on the Department for Transport website. In the meantime we have also withdrawn the national estimates for the Highways Agency road network.
Press enquiries: 020 7944 3066
Out of hours: 020 7944 4292
Public enquiries: 0300 330 3000
Published 16 June 2011