Press release
Transport statistics 13 September 2012
Statistics release for vehicle licensing, port freight and reliability of journeys on Highway Agency's motorways and 'A' roads.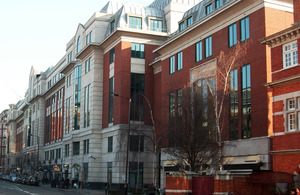 The Department for Transport has published the following transport statistics on:
See the department's statistics pages for details on all recent transport statistics releases.
These official statistics are published according to arrangements approved by the UK Statistics Authority.
Media enquiries
Media enquiries: Newsdesk (Monday to Friday, 8am to 7pm)
020 7944 3021

Urgent media enquiries out of hours
020 7944 4292

The Department for Transport press office only deals with enquiries from the media.

If you're not a member of the media, please use the switchboard line
0300 330 3000
Published 13 September 2012