News story
Transport sector all geared up for winter weather
Transport operators have robust plans in place to keep the transport network going in the event of bad weather.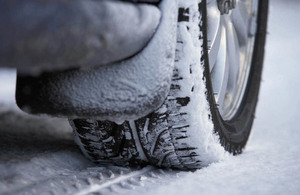 The government is working closely with the transport sector to keep our national transport network moving in all weathers. If the winter develops as predicted, there is likely to be some disruption to road, rail and potentially air travel. The advice now is to think now about what that might mean for you, your travel plans, and your business.
All key transport operators, including airports, local authorities, train operating companies, Highways England and Network Rail — have winter contingency plans in place and the government has undertaken a great deal of work in recent years on winter resilience to ensure preparations for winter weather are as robust as possible.
To keep the roads moving, a total of 1.7 million tonnes of salt is held in England. This includes an emergency salt reserve that is held at key locations around the country. Over 400 gritters are on standby across the country to start spreading salt when temperatures are forecast to dip below freezing. At full capacity, Highways England gritter drivers are able to spread salt on every metre of motorway every three hours.
Network Rail will be patrolling the tracks day and night clearing snow and ice from junctions and tunnels to keep railways across Britain running. In addition, they have 6 snow and ice treatment trains (SITTs) fitted with snowploughs, hot air blowers, steam jets, brushes, scrapers and jets for heated anti-freeze and compressed air to quickly de-ice tracks.
Passengers who are due to fly are advised to check with their carrier before leaving for the airport. When flight delays and cancellations do occur, the Civil Aviation Authority, airports and airlines work together to ensure that affected passengers are provided with up-to-date information on delays, and offer rebooking for cancelled flights.
UK airports and airlines have improved their resilience to severe winter weather. Since 2009, Heathrow has invested £36 million and Gatwick £8 million in new snow/ice clearance fleets. At Gatwick this has resulted in an increase in the number of vehicles from 47 in 2009 to more than 100 vehicles today. It also has 320 trained staff available to operate this equipment.
Further links
Roads media enquiries
Media enquiries 020 7944 3021
Out of hours media enquiries 020 7944 4292
Switchboard 0300 330 3000
Published 13 January 2016