News story
Transport Secretary visits Wolverhampton
Patrick McLoughlin in Wolverhampton to discuss future of local and regional rail network.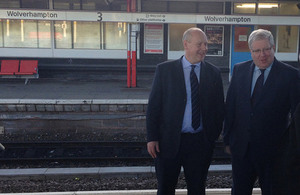 Transport Secretary Patrick McLoughlin visited Wolverhampton today (2 March 2015) to discuss local and regional rail links, including potential improvements to Wolverhampton railway station and proposals to devolve control of the railways in the West Midlands.
The Secretary of State met with representatives of West Midlands Rail (WMR), a consortium of 14 metropolitan, shire and unity authorities, to discuss their proposition for rail devolution in the area, which was developed following the government's consultation on giving local communities greater responsibility for how rail services are run.
Transport Secretary Patrick McLoughlin said:
£38 billion is being invested in our rail network as part of the government's long term economic plan to generate jobs and growth. Giving local areas a greater say over how their train services are run can help drive the improvements to our railways that passengers want. I am pleased that good progress is being made with the WMR consortium to do this in the West Midlands.
Following today's meeting, the Department for Transport and West Midlands Rail will work together to set out how the work will be taken forward.
Mr McLoughlin also visited Wolverhampton Railway Station for a briefing on the Wolverhampton Interchange Project, which was allocated £4.5 million government Local Growth Deal funding in July.
Rail media enquiries
Press enquiries 020 7944 3021
Out of hours 020 7944 4292
Switchboard 0300 330 3000
Published 2 March 2015