News story
Transport Secretary sees transport improvements in Kent
Patrick McLoughlin visits transport projects that demonstrate the improvements the government is making to rail and road travel.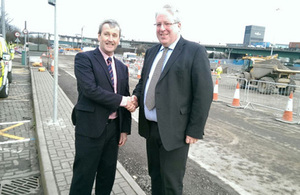 Transport Secretary Patrick McLoughlin was in Kent today (26 January 2015) to visit 2 transport projects that demonstrate the improvements the government is making to rail and road travel.
In Rochester he saw how a new train station is taking shape to provide a more central terminus for passengers and visitors to the historic town, breathing new life into the riverside area. The longer platforms will also mean that 12-car trains will be able to serve the town giving passengers more seats.
Visiting the station today, Patrick McLoughlin said:
We are investing record amounts to build a world-class railway. Better transport is all part of delivering the government's long term economic plan.

Rochester's new station will be a big improvement for this historic town. It will benefit commuters and visitors thanks to longer trains and more seats for passengers.

As well as giving passengers a better service, this investment will help the local economy by improving access to jobs.
The new £26 million Rochester station is being built as part of a Network Rail scheme to replace and improve signalling on the railway lines from Longfield to Sittingbourne, Strood to Beltring and the Sheerness to Sittingbourne branch. The station will open in December.
The Transport Secretary also visited the Dartford Crossing to see the new payment system in action at the crossing. Dart Charge was introduced last November.
The Dart Charge allows drivers to use the crossing without having to pay the charge at a barrier. Instead drivers can pay online, by phone or by post – speeding up journey times by up to 10 minutes in peak hours.
Mr McLoughlin was shown the new road layout currently under construction that will also improve journey times at the crossing. The new layout is due to be completed in Spring this year.
Patrick McLoughlin said:
Good transport links are absolutely vital to the government's long term plan to boost economic growth in Britain.

The Dartford Crossing is an important part of the country's strategic road network and we need to do all we can to make journeys as smooth as possible.

Early results suggest the introduction of the Dart Charge has cut journey times by nearly 10 minutes southbound and more than 4 minutes northbound in peak hours – and there are more improvements to come.

I am looking forward to seeing the plans develop further.
Media enquiries
Media enquiries: Newsdesk (Monday to Friday, 8am to 7pm)
020 7944 3021

Urgent media enquiries out of hours
020 7944 4292

The Department for Transport press office only deals with enquiries from the media.

If you're not a member of the media, please use the switchboard line
0300 330 3000
Published 26 January 2015