Transport Secretary appoints interim Chair of Office of Rail and Road
Stephen Glaister to oversee work of independent rail and road regulator.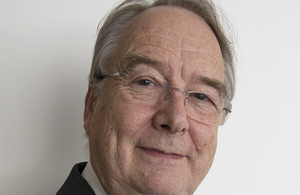 Transport Secretary Patrick McLoughlin has today, Thursday 17 December 2015, announced the appointment of Professor Stephen Glaister CBE FICE FTRF FCGI as the Chair of the Office of Rail and Road (ORR) for a 12-month term.
Professor Glaister will replace the current chair, Anna Walker, when she steps down as planned at the end of this month after more than 6 years in the role. He will be responsible for leading the independent regulator as it continues its vital role in holding Network Rail and Highways England to account, and ensuring safety and efficiency.
The Transport Secretary has chosen to appoint a chair for an interim period of 12 months while work continues on a government project looking at the future role and responsibilities of the ORR, following the recommendations of an independent report by Dame Colette Bowe earlier this year. This work is being carried out in parallel with Nicola Shaw's report on the longer term shape and financing of Network Rail, which is due to conclude next year.
Patrick McLoughlin said:
A strong, independent regulator is essential in maintaining the safe and smooth running of the UK's transport network and I am confident that Professor Glaister will bring continuity and stability to the ORR as we consider the broader shape and structure of the rail industry.

His wealth of experience will ensure the organisation is best placed to respond to the challenges ahead and able to deliver both value for money for taxpayers, and improvements for passengers. I would also like to thank Anna Walker for her dedication to the role over the past 6 years.
Stephen, who has served as a non-executive director on the ORR board since April 2015, is Emeritus Professor of Transport and Infrastructure at Imperial College London.
He has previously served as a member of a number of transport boards including Transport for London, as well as acting in an advisory role to the government and the Transport Select Committee. He has recently retired as director of the RAC Foundation.
He said:
I am honoured to be leading ORR as chair at this time of both rejuvenation and enhancement for rail and road, working with ORR's expert staff – all of whom are committed to serving the public interest.

The UK transport sector continues to expand, demanding a stable, secure and well-governed regime to enable it to provide adequately for the needs of a growing economy. This includes strong and independent economic and safety regulation which protects the interests of investors, taxpayers and users – not least, the travelling public. ORR will continue to be dedicated to this task.

Our transport and infrastructure sectors are recognised as important. But they are complex and ever-changing. They naturally undergo reviews of how their institutions work effectively. ORR welcomes the review of the longer-term future shape and financing of Network Rail and the separate review of ORR's future role. We will make a positive contribution in helping both reviews arrive at a successful conclusion.
Stephen will take up his appointment on 1 January 2016, which will run until 31 December 2016. The appointment was made in line with the Commissioner for Public Appointment's Code of Practice on ministerial appointments to public bodies.
Rail media enquiries
Media enquiries 020 7944 3021
Out of hours media enquiries 020 7944 4292
Switchboard 0300 330 3000
Published 17 December 2015