Transport Minister Robert Goodwill calls for an increase in cycling and walking
New government strategy launched to encourage travelling by bike or on foot.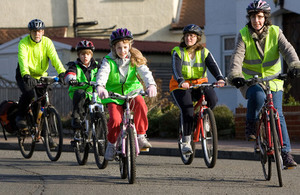 A blueprint to encourage more walking and cycling was today (27 March 2016) launched by the government.
The new strategy has a clear ambition that by 2040 getting around by bike or on foot will be the natural choice for shorter journeys, or as part of a longer journey.
It includes ambitions to double cycling, reverse the decline in walking, reduce the rate of cyclists killed or seriously injured and increase the number of children walking to school.
This will be met through providing safe and attractive infrastructure to encourage journeys on bike and foot.
The strategy marks a major shift from short term funding streams for cycling and walking to a strategic long term approach. A consultation has been launched today seeking views on the strategy.
Transport Minister Robert Goodwill said:
The government's blueprint to encourage more people to cycle and walk will benefit the whole of society by boosting the economy, improving health, cutting congestion and improving air quality. Realising our ambition will take sustained investment in cycling and walking infrastructure. That's why we have committed over £300 million to support cycling and walking over this Parliament and this will increase further when spending on enhancing and maintaining existing infrastructure is taken into account.

Delivering this long term plan will require patience, persistence and a change in attitudes – amongst government, local bodies, businesses, communities and individuals. We cannot afford not to grasp the opportunities available and we are determined to make this country a cycling and walking nation, comparable to the very best in the world.
Following the end of the consultation on Monday 23 May 2016, responses will be assessed and a final strategy published in the summer, when the government will also issue guidance to local bodies on developing local plans.
Local delivery partners will be supported to do what they do best - identify and deliver individual and tailored interventions fit for their own local areas, with the government taking a lead on issues such as setting the framework and sharing knowledge and good practice.
A new independent expert committee will be established by October 2016 to advise on the strategy and its implementation.
Alongside today's draft strategy, the Department for Transport has published a number of case studies that illustrate good practice taken by local authorities when designing and implementing cycling infrastructure, and research into ways of increasing levels of cycling across the country and the economic case for cycling.
Roads media enquiries
Media enquiries 020 7944 3021
Out of hours media enquiries 020 7944 4292
Switchboard 0300 330 3000
Published 27 March 2016