News story
Transport minister encourages people to get on their bike for Cycle to Work Day
Robert Goodwill wants to see more people enjoy the benefits of pedalling to work.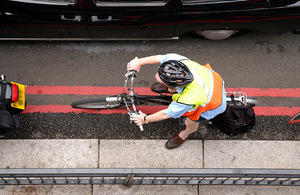 Cycling Minister Robert Goodwill has urged people to enjoy the benefits of commuting by bike on Cycle to Work Day, Thursday 3 September 2015.
Commuting by bike is growing in popularity, particularly in Britain's cities. Cambridge leads the way with 30% of people getting to work on 2 wheels.
Transport Minister Robert Goodwill, who rides a folding bike to the department's headquarters in London, said:
We are committed to getting more people cycling and a key part of that is the daily commute to work. Cycling is great for our health and means less congestion in our towns and cities and less pollution. It also boosts the economy. We want commuting by bike to be an option for as many people as possible and are investing in better traffic infrastructure and facilities to make it safer and easier.
An LSE report has shown that regular cyclists take fewer sick days than non-cyclists with the average cycling trip in the UK taking 23 minutes.
The government is investing in making junctions and roads safer for cyclists, including working to ensure all new roads have cycling infrastructure. More than 1.5 million children have received cycling training in schools through the Bikeability programme since 2010.
A Cycling and walking investment strategy has also been included in the Infrastructure Act which will provide the long-term ambitions and resources to increase cycling in the UK.
Cycle to Work Day is organised by CycleScheme who provide for employees to choose their own bike and pay it back by instalments through their salary – resulting in a significant saving on cost for new bikes and essential accessories.
News desk enquiries
Media enquiries 020 7944 3021
Out of hours media enquiries 020 7944 4292
Switchboard 0300 330 3000
Published 3 September 2015