News story
Transformation of Nottingham's Trent Basin gets green light
Plans for a new neighbourhood of up to 160 low energy homes at Trent Basin, Nottingham have been approved.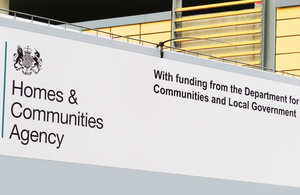 It is the latest major project by specialist regeneration developer Blueprint and the result of a collaboration with the government's Homes and Communities Agency (HCA).
Trent Basin is located within Nottingham Waterside, an area widely acknowledged as one of Nottingham's greatest but least developed assets. Stretching from Trent Bridge to Colwick Park, the area is the focus of major redevelopment proposals with Blueprint and HCA's development as a major catalyst for change.
The planning application for the scheme has been approved by Nottingham City Council's planning committee and, subject to final planning consent, work on Trent Basin is set to start this summer with the first phase of 41 homes completed in the autumn of 2015.
Nick Ebbs, Chief Executive of Blueprint, said:
Approval from Nottingham City Council's planning committee is a huge leap forward for what will be a new residential neighbourhood of distinctive contemporary homes with one of the city's most enviable outlooks.
Kate Davies, Senior Area Manager for the HCA, added:
The HCA has worked extremely hard to get the project to this stage, having acquired the site many years ago. We've demolished buildings and cleaned-up the site ready for development and we are really pleased that through Blueprint's expertise, we can use the land to build high quality homes and revitalise the area, providing a great opportunity for people to live beside and enjoy this fantastic riverside location.
The 9 acre site off Trent Lane has long waterside frontage with attractive views over the River Trent to Lady Bay. Close to Colwick Park, it is just a 10 minute cycle ride from the city centre.
Trent Basin will provide homes with a mix of contemporary quality and low energy costs. Comprising predominantly 3 to 4 bedroom homes, it will break the mould for edge of town waterside developments in English cities that up to now have been dominated by apartments.
The Blueprint vision for Trent Basin is of a sustainable neighbourhood with tall, elegant houses, fronting well-designed streets with a design partly inspired by Dutch canal houses. Open views over water and green spaces will reinforce the sense of place and emphasis will be placed on designing an area for use as fishing, boating and exercise as well as for cyclists, dog walkers and joggers.
In partnership with the HCA and in consultation with Nottingham City Council, Blueprint has worked up a comprehensive master plan for the overall scheme, including details for the first phase of 41 homes and has signed a conditional land agreement with the HCA for the site.
Published 18 March 2014