Transfer of private sewers will free customers from unexpected repair bills
Surprise bills to repair broken, blocked or damaged sewers will no longer catch out water customers.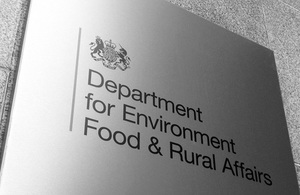 Surprise bills, which can run into tens of thousands of pounds, to repair broken, blocked or damaged sewers will no longer catch out water customers after changes being introduced today by Environment Minister Richard Benyon.
The changes will see the ownership of private sewers, that run under peoples' property, gardens or in the road, and connect to the public sewer system, move from the homeowner to the water companies. This will remove a burden from householders that has long been viewed as unfair and unreasonable and will mean that water companies will take over the responsibility of repairing collapsed and blocked sewers from 1 October 2011.
The costs to private sewer owners of these repairs are estimated at £221 million each year and the transfer will give customers peace of mind from the nasty surprise of being charged for repairs to pipes which they did not know they were responsible for.
Environment Minister Richard Benyon said:
"The transfer will stop the financial threat of customers being hit with huge repair bills for sewers that sometimes aren't even on their property. It's a much fairer and simpler approach which will also improve the overall quality of the network to reduce the chance of problems in the first place."
It is estimated that the cost to sewerage bill payers would be between six to 27 pence a week. The final costs will reflect the situation on the ground and will vary between water companies. The timing of any increases in bills will be driven by when water companies incur any costs and apply to Ofwat to increase prices.
Water companies will be contacting all bill payers in their areas over the coming weeks to explain the proposals. Customers should check their company's website for more information.
Pamela Taylor, Water UK's Chief Executive, said:
"The transfer promises to bring peace of mind to customers across England and Wales. For the water companies, the transfer is a major change as they will be taking on responsibility for many thousands of miles of pipes, some of which may be in poor condition. There could well be a backlog of maintenance, repair and renewal for companies to tackle."
Tony Smith, Chief Executive of the Consumer Council for Water, said:
"Once the exact cost of the transfer is known, we will work closely with the water regulator, Ofwat, and the water and sewerage companies to ensure costs are spread over an appropriate period of time and challenge costs to minimise the impact on water bills."
The transfer of private sewers will complete a process started in 1936 but never finished and puts everyone on an even footing and spreads the costs across all sewerage bill payers. It will also ensure a better maintained, less polluting, and more efficient sewerage system well into the future. 
**Notes **
For more information on the transfer, please see the sewers section of the Defra website:
Published 1 July 2011