Transatlantic relations in the 21st century
British Minister of State for Europe and NATO, David Lidington, visited Washington, DC this week to discuss shared European and US economic and security interests with senior US officials and opinion formers.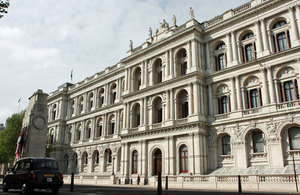 The Minister's visit comes at a time when the value of the transatlantic alliance has been reaffirmed in response to the Arab Spring, and particularly Libya. The US and Europe - with crucial support of regional partners - took swift action to defend civilians from Qadhafi's regime.
In a speech to the Atlantic Council on Tuesday, the Minister said:
"More work needs to be done to secure a better future for Libya but our initial response was a striking achievement and it has proved what we may have known instinctively all along - that when decisive action is required, there is no substitute for allies and friends who have the capacity and will to act globally, on the basis of shared view of the world."
The Minister went on to speak of the strength of the US-European economic relationship:
"Our economies are more deeply integrated than anywhere else in the world. The US trades more than twice as much with Europe as it does with China. In 2009, transatlantic trade was worth $817bn, compared to $319bn between the US and China. The difference is even more pronounced when you consider who invests in the US. European investment in the US totals $1.47 trillion compared with only $791m from China. In other words, European investment in the US is close to 2,000 times greater than that of China."
The Minister also filmed a video blog from the National Mall on Monday in which he discussed the role of US-European relations in the 21st century.
Search the news archive
Published 5 April 2011