Press release
Traineeships set to deliver for more young people
New guidance has been published today (16 May 2014) to expand traineeships and make them more accessible to young people.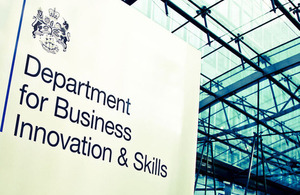 Building on the success of the first year of the Traineeships programme, new guidance has today (16 May 2014) been published to expand traineeships and make them more accessible to young people. The changes will introduce greater flexibility to help learning providers and employers develop quality programmes.
Launched in August 2013, Traineeships are an education and training programme offered to young people, including those who are unemployed. Trainees benefit from work experience, support with maths and English and work preparation training to improve their chances of gaining an Apprenticeship or other job.
Skills and Enterprise Minister Matthew Hancock also called on more employers to get involved by offering work experience to help trainees get ready for the world of work.
He said:
Traineeships have had a successful first year and thousands of young people have benefited from the chance to get the skills and work experience they need for an apprenticeship or other job. But there is more to do. We need more employers to offer traineeship places; I want more young people to have the opportunity to embark on a traineeship and take the first step in working towards a successful career.

The guidance published today highlights further improvements to the programme based on feedback from those delivering and undertaking traineeships. This will enable the programme to be expanded and allow more young people to benefit from traineeships, whilst maintaining a strong focus on quality.
The publication of the new guidance reflects recent changes which make traineeships accessible to more young people, and introduces greater flexibility to help learning providers and employers develop quality programmes. From August 2014, Traineeships will be available to young people aged between 16 and 24, whereas previously, the cut off age was 23. There is also greater flexibility in the rules for benefit claimants meaning they can train for longer each week and no longer have to do their work experience in a block of up to 8 consecutive weeks.
In the first 6 months of the programme, more than 3,300 traineeships were recorded, supported by hundreds of large and small national and local employers. Recently, with the support of government funding, National Grid, Everton Football Club, Rogers Restorations and Costain pledged to create a total of 5,000 traineeships in their organisations and the communities they work in over the next 3 years.
Denise Barrett-Baxendale, Chief Executive Officer for Everton In The Community said:
The benefits that a traineeship offers are invaluable and give young people from across our community the vital skills to help them take their first step onto the career ladder. Our programme offers access to both qualifications and employment and really will make such a positive impact on so many lives.
Notes to editors
For more information on traineeships, visit the National Apprenticeship Service website

The Framework for Delivery can be downloaded here 'Framework for Delivery for 2014/15'.

The government's long-term plan is to build a strong, more competitive economy and a fairer society.
Industrial Strategy gives impetus to the plan for growth by providing businesses, investors and the public with clarity about the long-term direction in which the government wants the economy to travel.
The first achievements and future priorities of the industrial strategy have been published and can be found here https://www.gov.uk/government/publications/industrial-strategy-early-successes-and-future-priorities.
Published 16 May 2014