Trailblazing academy to help transform public sector services
A new Commissioning Academy will help senior commissioners learn from the examples of successful and innovative commissioning groups.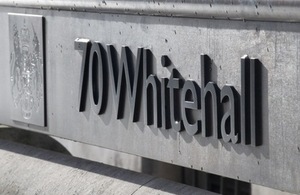 31 January 2013
A new initiative, which brings together commissioners from across the public sector, will transform how public services are delivered and arm the civil service with the right commissioning skills for the future, Minister for the Cabinet Office, Francis Maude, announced today.
Open to all public sector commissioning organisations, including central government departments, local authorities, health bodies and judicial services, the Commissioning Academy will help senior commissioners learn from the example of the most successful and innovative commissioning groups.
Those who commission public services need the confidence and know-how to design different ways to deliver services, to shape and manage new markets and build more effective and more efficient ways of delivering services for local people.
Francis Maude said:
We are living in tough economic times and every part of the public sector is facing up to the challenge of reduced budgets and delivering more for less. That's why we are implementing our reforms for a more skilled, less bureaucratic, faster civil service that can share best practice across the public sector.

We have the opportunity to transform the future of public service design and delivery in every area, and in every sector. We know there are innovative commissioning teams who leading the way and embracing new ways of working - but there are still too many authorities and public bodies where commissioning approaches remain unimaginative, too focused on process and too risk averse.

Sharing new approaches needs to be done consistently, quickly and effectively. That is why the government, with the support of the Local Government Association, have designed a new Commissioning Academy which will have an important role in equipping and delivering a new wave of 21st century expert commissioners with the right skills.
Minister for Civil Society Nick Hurd said:
Commissioners spend billions of pounds of our money every year, and have a huge responsibility. The academy is about supporting really intelligent commissioning that delivers maximum economic and social value to communities and the taxpayer.
Chairman of the Local Government Association, Sir Merrick Cockell, said:
Commissioning isn't just about saving money or being more efficient. The key to commissioning services is developing a deep understanding of the users in order to design an approach that best meets both their needs and desires. It's not about doing more with less, it's about doing better with less.

The Commissioning Academy provides a great opportunity for leading local authorities to exchange new ideas and share best practice with representatives from government departments, the police and the NHS on how to reinvent services.

The LGA has worked very closely with the Cabinet Office to develop the curriculum and the pilot programmes for the Academy and we hope it will play a key role in helping the public sector develop the skills required to bring about real change in the way services are designed and delivered.
Participants in the Commissioning Academy's pilots have praised the academy's effective way of sharing best practice across different regions and different sectors.
Paul Lynch, Planning & Performance Manager, West Cheshire Clinical Commissioning Group, said:
It's been a hugely enjoyable experience and a great networking opportunity for me to meet and talk to public sector leaders from across the country who are facing similar challenges to those that we face.

The key thing for me is to think across systems, so looking across the whole of the West Cheshire, at what the outcomes are that we want to achieve for our citizens and how can all of the public sector partners work together to achieve those.
There are already exemplary councils pioneering new, innovative approaches to redesigning services:
Wiltshire Council has worked with parents and carers of disabled children to redesign its Short Breaks support. This has led to easier access for families, cutting out bureaucracy around assessing family needs. Approximately 1,000 families now have access to the Short Breaks service, whereas only 100 families benefitted under the old model.
East Sussex County Council has set up a 'Commissioning Grants Prospectus' to simplify the way they commission services from voluntary and community groups and social enterprises, incorporating social value as an important part of the award decision and leading to substantial savings in tendering approaches.
The academy is now open for applications from senior level commissioners to join the first cohorts, starting from April 2013 onwards. Sponsored by their Director General or Chief Executive, those participating in the academy will on completion take forward 100-day plans aimed at transforming their organisation's commissioning practices.
Notes to editors
Participants at the academy will focus on practical peer-led learning covering key commissioning issues such as:
outcome-based commissioning;
working with the voluntary and community sector;
market engagement and development;
joint commissioning across organisational boundaries; and
new models of delivery such as mutual and joint venture companies.
The Commissioning Academy is now open to applications: find out more here.
Published 31 January 2013