Trade Minister leads drive to double trade to Central and Eastern Europe
Lord Livingston to launch 2 new British Business Centres in Slovakia and Hungary.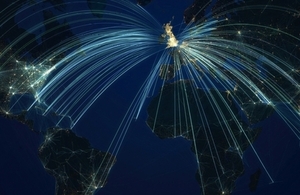 More than 60 small businesses will today (3 March2014) begin an intensive, 5 day, trade mission aimed at boosting trade with Central and Eastern Europe, led by Trade Minister Lord Livingston.
The trip forms part of a broader effort to meet UK Trade and Investment's (UKTI) target of doubling trade with Central and Eastern Europe by £30 billion by 2020. The delegation of businesses includes companies from the energy, rail, healthcare, life sciences, retail and security sectors, reflecting some of the highest value opportunities for British businesses in this region.
During the visit Lord Livingston will launch 2 new British Business Centres in Slovakia and Hungary, transforming the quantity and quality of support available to small and mid-sized UK firms exporting to those countries. Each business centre will be staffed with trade teams.
A British Business Centre for Poland opened last year (2013) and business centres in the Czech Republic, Romania and Slovenia are due to open shortly.
Trade Minister Lord Livingston said:
This is a dynamic and exciting growth market. British firms have doubled trade exports to Eastern and Central European countries in the last 10 years but we still lag behind our rivals.

By 2020, I want to double exports to this region, so we are ramping up our support for British firms on the ground by opening a network of business centres across the region and increasing the number of trade missions to introduce more British businesses to potential buyers.
The 4 countries of Poland, Czech Republic, Slovakia and Hungary, along with 5 others in the Central Europe Network (Austria, Bulgaria, Romania, Slovenia and Croatia), have a combined population of over 100 million people, a combined GDP in excess of £1 trillion and annual average growth rates that in recent years have far exceeded most other European countries.
These countries also have low levels of public debt compared with the Eurozone average and the region is about to benefit from £124 billion of EU funding between 2014 and 2020, enhancing investment prospects in infrastructure, energy and innovation.
In Poland Lord Livingston will visit Rolls-Royce which has a service centre in the Port of Gdynia and an Engineering Services Centre in Krakow employing over 70 specialists in engineering design and supply chain management.
Other British business success stories in the region include Tesco, which now has almost 1,200 stores, AstraZeneca, HSBC, Bupa and engineering company Atkins. The 60 British companies taking part in the trade delegation will spend time with these companies to learn from their experiences in the region and the value of exporting.
West Midlands based automotive manufacturer Westfield Sportscars will be 1 of the companies on the trip.
Julian Turner, Westfield Sportscars Managing Director said:
We are looking to expand further afield both in Europe and elsewhere across the globe. We've had huge success in Japan following assistance from UKTI, including an Overseas Market Introduction Service into the Japanese and Asia Pacific markets, and we're hoping to replicate this in Central and Eastern Europe.

Our aim is to set up new European dealers to sell our European Small Series compliant road vehicle, Sport Turbo, and our well-established Westfield Race Car, AeroRace.
Notes to Editors:
1.Companies on the trip are from the following locations in the UK: Adlington, Banbury, Bicester, Billingham, Birmingham, Bristol, Burton on Trent, Daresbury, Droitwich, Fareham, Glasgow, Halesowen, Hampstead, Hawes, Haydock, Hayes, Hemel Hempstead, Henfield, Huthwaite, Kingswinford, Lancaster, Lisburn, London, Loughborough, Maidenhead, Malvern, Manchester, Market Drayton, Meriden, Morden, Northampton, Northfleet, Nottingham, Otley, Paddington, Preston, Ripley, Romsey, Sevenoaks, Sheffield, Stokesley, Stroud, Sunderland, Swansea, Swindon, Teddington, Watford, Wetherby, Winkleigh and Woodbridge.
2.Central and Eastern Europe:
The 4 Central and Eastern European countries through which the Minister will travel (Poland, Hungary, Czech Republic and Slovakia) form part of what UKTI defines as the 'Central Europe Network'. The other 5 countries in the region are Romania, Austria, Bulgaria, Croatia and Slovenia.
Further details:
exports of British goods and services to Central Europe have more than doubled in the last 10 years (to £16 billion, 3% of the region's imports)
however, Germany exports almost 15 times more to the region than the UK, the Italians 4 times more and the French twice as much
there has been a 2.6% average annual growth across the region over the last 5 years, compared with 0.5% for the Eurozone and 0.2% for the UK
the region has continued to see dynamic growth of foreign direct investment (FDI) since 2009: the flow of FDI into CEE increased by 75% in 2011, reaching a total value of £28 billion
low levels of public debt (still below 50%, compared with a Eurozone average close to 90%) will help ensure economic stability, resulting in long term sustainable growth
3.UK Trade and Investment:
UK Trade and Investment (UKTI) is the government department that helps UK-based companies succeed in the global economy. We also help overseas companies bring their high quality investment to the UK's economy – acknowledged as Europe's best place from which to succeed in global business. UKTI offers expertise and contacts through its extensive network of specialists in the UK, and in British embassies and other diplomatic offices around the world. We provide companies with the tools they require to be competitive on the world stage. For more information on UKTI, visit www.ukti.gov.uk or visit the online newsroom at www.ukti.gov.uk/media
4.In the 2012 Autumn Statement, UKTI was awarded an additional £70 million for each of 2013/14 and 2014/15, enabling the recruitment of more international trade advisers around the country, expansion of existing services including the Trade Access Programme (TAP) and the Overseas Market Introduction Service (OMIS), and support to expand the range of assistance available to UK companies through overseas British chambers of commerce.
5.The government's economic policy objective is to achieve 'strong, sustainable and balanced growth that is more evenly shared across the country and between industries'. It set 4 ambitions in the 'Plan for Growth', published at Budget 2011:
to create the most competitive tax system in the G20
to make the UK the best place in Europe to start, finance and grow a business
to encourage investment and exports as a route to a more balanced economy
to create a more educated workforce that is the most flexible in Europe
Work is underway across government to achieve these ambitions, including progress on more than 250 measures as part of the Growth Review. Developing an Industrial Strategy gives new impetus to this work by providing businesses, investors and the public with more clarity about the long-term direction in which the government wants the economy to travel.
Published 3 March 2014