Town halls in Andalucía offers rewards to foreign residents registered on Padrón
British residents registering on the Padrón could be eligible for free or subsidised access to sports and leisure facilities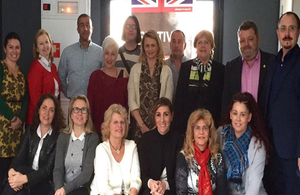 British residents registering on the Padrón could be eligible for free or subsidised access to sports and leisure facilities, benefits and even reduced community charges and local taxes, say town hall representatives in Andalucia. They could also qualify for access to health and social care, and help towns to obtain funds for essential public services such as police, health centres and schools.
This week, the British Consulate in Malaga hosted a meeting with representatives from town halls in Alhaurin el Grande, Benahavís, Benalmádena, Estepona, Fuengirola, Marbella, Manilva, Mijas, Nerja and Velez-Malaga, together with the National Institute of Statistics (INE) and the Provincial Tax Authority (PRP), to discuss ways they are encouraging British residents to register on the Padrón.
In almost all town halls, there are English-speaking staff working on Padrón registration. Benahavís has regular information meetings in English, whilst representatives from Mijas and Estepona even go door to door to register residents. Rosslyn Crotty, British Vice-Consul in Malaga said:
British people living in Spain need to understand why it is so important to register on their local Padrón now. We are seeing British residents who cannot access essential social care or benefits because they are not registered on the Padrón.
It is especially worrying in cases of elderly British residents on a low income, who may require help from social services but are not eligible because they haven't registered. I'm delighted to see the good work being done by the town halls to reach British residents.
The Padrón is a register of local residents kept by each town hall in Spain. People who are registered can access benefits, health and social care and leisure activities. Central government also allocates funds for emergency services, health centres and schools to town halls according to the number of people registered.
Contact your local town hall to find out how you can register on the Padrón.
You can also find out more about the Padrón by visiting here.
Published 7 March 2016