Press release
Tougher deals to save taxpayers £70 million
Two new government IT deals announced today by Francis Maude will deliver combined savings of approximately £7m.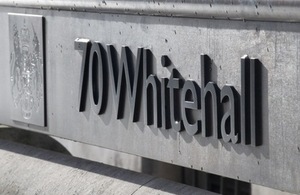 Two new government IT deals announced today by Minister for the Cabinet Office Francis Maude will deliver combined savings of approximately £70 million.
 
The agreements, with Microsoft and SAP, are the latest in a series of government supplier renegotiations to ensure that the public sector gets the best prices for taxpayers - maximising the bulk buying power of government and ending the days where different parts of government pay different prices for the same products. The government announced similar deals with IT companies, Oracle and Capgemini, earlier this year.
 
The savings comprise:
An estimated £65 million in savings from discounts on Microsoft software licences. The new agreement provides better commercial terms, including a revised discount schedule for the public sector.
Over £3 million estimated in new discounts on SAP software. There are around 125,000 users of SAP software in central government alone and the technology is used to underpin services such as payment of invoices and payment of civil service salaries. Savings are expected to rise to at least £5 million by 2015, depending on the volume of licences purchased. The agreement also includes new support offerings on SAP software.
Both deals will also benefit councils, health trusts, police authorities and other bodies who can access the deal through Government Procurement Service. These organisations typically account for two-thirds of total public sector spend with Microsoft, delivering further tens of millions of pounds in savings. SAP is used by a number of police forces and NHS Trusts in England as well as over 50 local government organisations, all of which will now be able to benefit from the improved terms on software licences.
Minister for the Cabinet Office, Francis Maude, said:
The old days of signing huge, inflexible IT contracts are gone forever. We have skilled negotiators within government and we are building up this expertise, taking a strategic view and acting as the taxpayer's champion. These new deals will provide better IT at cheaper prices for police, NHS and council workers across the country.   This is better for business, too - we now work more intelligently with our big suppliers and there's more transparency over future buying plans. Microsoft and SAP are showing leadership by grasping the opportunity to work more intelligently with public sector.   This new approach to doing business goes right to the heart of the efficiency agenda. We are delivering unprecedented savings - figures for last year are currently being audited and are expected to show that over £5 billion was saved through more efficient government.
Dr Nicola Hodson, General Manager Public Sector, Microsoft, said:
We are delighted to have reached this agreement with the Cabinet Office, which fully supports the Government's goals of reducing public sector expenditure while at the same time transforming public services through the adoption of new technologies. We look forward to continuing to work with the Cabinet Office and public sector organisations and our 30,000 partners in the UK - the vast majority of which are small businesses - to deliver improved outcomes and help build a better Britain.
David Mills, Head of Public Sector UK and Ireland, SAP said:
SAP is delighted to be continuing our relationship with the UK public sector and this agreement highlights a more mature way of us working together.  The agreement allows for the sharing of SAP resources across the whole of the public sector, therefore creating more flexibility and reducing overall costs.
Jos Creese, Hampshire County Council Chief Information Officer and chair of the Local Public Services CIO Council, said:
SAP is widely used across larger local authorities, many of whom increasingly need to be able to work together. Having access to a single and flexible framework that makes this possible and reduces costs is therefore very welcome. Sixteen large local authorities and regional governments have so far supported this ambition and the activity which has led to this agreement. I am delighted to have been involved in representing local government colleagues, and I hope more contracts can be shared more readily in this way across the different tiers of government.
The government has put in place policies to transform its approach to doing business, including greater transparency over potential public sector business, a level playing field for small businesses, better long-term partnerships with government and more simplicity in public sector procurement. Contract renegotiations in the first ten months of this Government delivered £800 million of savings across major suppliers and a further £140 million will be delivered for the 2011/12 financial year. 
Notes to editors
The savings are calculated using the new discount prices and calculating these against projected spending plans for central government up to the end of 12/13. They also include estimated savings for the wider public sector for the same period. The figures are estimates as exact savings will depend on exactly what departments buy. Savings may also be realised due to other aspects of the deals, eg through the ability for different parts of the public sector to now re-use SAP licences. Further savings are also expected to be made in future years of this Parliament, eg 13/14 and 14/15.
The new deal with Microsoft builds on frameworks with government that have been in place for more than 10 years, and will:
provide reduced licence fees, delivering up to £65 million in savings in for central government
see terms and pricing secured through to April 2015
release further cash for councils, health trusts, police authorities and other bodies who can access the benefits - these organisations typically account for two-thirds of total public sector spend with Microsoft, thus delivering further tens of millions of pounds of savings
support the government's ICT strategy by enabling re-use and transferability of software licences, thereby reducing unnecessary spend on new licences
provide the opportunity within the terms for piloting new technologies to support the ICT Futures agenda
allow large parts of central government to modernise their desktop ICT environment in a more cost-effective manner; this should reap further financial benefits through the enhanced energy saving and personal productivity features of the latest software.
Education is not included as this sector is in the process of renegotiating separate, preferential terms for Microsoft software.
The new deal with SAP will result in savings due to 2 key factors:
new discounts on the price of software licences based on spend volumes
a 22% improvement in year-on-year software maintenance charges licenses
About SAP
As market leader in enterprise application software, SAP (NYSE: SAP) helps companies of all sizes and industries run better. From back office to boardroom, warehouse to storefront, desktop to mobile device - SAP empowers people and organisations to work together more efficiently and use business insight more effectively to stay ahead of the competition. SAP applications and services enable more than 176,000 customers (includes customers from the acquisition of Sybase) to operate profitably, adapt continuously, and grow sustainably. For more information, visit www.sap.com.
About Microsoft
Founded in 1975, Microsoft (Nasdaq "MSFT") is the worldwide leader in software, services and solutions that help people and businesses realise their full potential.
About the supplier renegotiations and Crown Representative network
See: A new approach to supplier relations in government
About the Cabinet Office efficiency agenda
Tight controls on spending and a business-like approach to government have led to cash savings of £3.75 billion from May 2010 to April 2011 and the Government anticipates a further £5 billion in savings this financial year. See:
About Government Procurement Service (GPS)
Government Procurement Service, an executive agency of the Cabinet Office, is the delivery arm of government procurement. Its overall priority is to provide procurement savings for central government, health and organisations across the UK public sector through expert sourcing, category and centralised data management. By centralising, standardising and aggregating spend on common goods and services, GPS delivers significant, sustainable cost reductions to government.
Published 25 June 2012