Press release
Torpoint waste management company fined £14,000
Wilco's Waste Management Ltd have been fined a second time after breaching their environmental permit.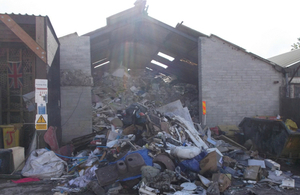 A prosecution was also brought against the Company Director, Adam Wilcott. The case was brought by the Environment Agency.
Wilco's Waste Management Ltd operate a waste transfer station in Torpoint, Cornwall.
A waste transfer station accepts mixtures of waste, usually in skips, where it is then sorted and the recyclables separated out from the other waste. The waste with no value is then removed from the site and taken for final disposal, and the wastes with value are sent on to other waste sites where they are reprocessed for reuse or recovery.
To operate a waste management business there must be an environmental permit for the site issued by the Environment Agency. The permit has conditions within it which are designed to ensure that the activity does not have an adverse effect on the environment or impact the local community.
In February 2015 the company pleaded guilty to 5 offences of permit breaches committed between January and May of 2014 and one offence of failing to comply with an enforcement notice in June 2014. They were subsequently sentenced on 9 April 2015.
During site inspections the Environment Agency found the quantity of combustible material on site posed both a pollution and fire risk. Not all of the surface run-off from the site was intercepted by the sealed drainage system and polluting liquids were able to leak into the ground and surface water. It was ordered that the company cease the importing of all waste into the site with immediate effect but it ignored the notice and continued to bring waste onto the site.
It was revealed that 80 tonnes of unauthorised hazardous waste was received over a 3 year period to a site that should not have been accepting this type of waste.
Company director Adam Wilcott said he had total control of the site and admitted the breaches. He said he carried on allowing skips on the site for commercial reasons saying he would have gone bankrupt if he had stopped accepting the waste.
Sophie Unsworth for the Environment Agency said:
The company was aware it was offending. It had been given advice and assistance on numerous occasions, was previously prosecuted, and yet carried on in a similar way. In that respect the offending was deliberate and at the very least reckless. The defendant's operations undermined legitimate business and posed a threat to the environment.
The magistrates fined the company £12,000 for 6 offences, and ordered it to pay £4,721 in costs. In addition, company director Adam Wilcott was fined £1,920 and ordered to pay a £32 victim surcharge.
Ends
Published 20 April 2016