World news story
Toronto hackathon to target dementia challenges with innovative ideas
Event will bring together prominent experts in dementia management and software design over 3 days.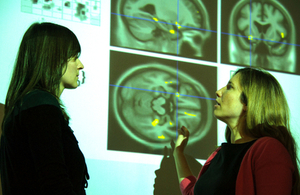 As part of the British government's ongoing commitment to dementia research and programming, the British Consulate-General Toronto is hosting DementiaHack, an international hackathon happening simultaneously in London and Toronto on September 12th-14th, 2014.
In partnership with Hackernest, the event brings together local stakeholders from the healthcare and technology communities. Participants include clinicians, caregivers, people living with dementia, researchers, computer programmers, designers, and members of the business community. Teams work together to tackle the most pressing challenges faced by those with dementia and their caregivers by rapidly developing innovative ideas from leading programmers and entrepreneurs.
Ultimately, the goal is not just to 'raise awareness', but to bring to life real, lasting products that will actually improve people's quality of life. The hackathon also provides a forum for entrepreneurs to work with programmers and healthcare experts to market and commercialise their prototypes.
"In the UK alone, around 800,000 people have dementia and that number is expected to double by 2040," said British Consul General Jonathan Dart. "This event is about using cutting-edge technology to help dementia sufferers worldwide, and for participants to have their ideas and programming skills realised and accelerated by the business community in Canada and the UK."
This event follows the G8 Dementia Summit, which the UK hosted in December 2013. One of its goals was to stimulate great investment and innovation in dementia research.
Further information
Follow the British High Commission on Twitter
Follow the British High Commission on Facebook
Published 25 July 2014