Tornado ground attack jets clock up one million flying hours
The RAF's ground attack Tornados currently serving in Afghanistan and Libya have clocked up a staggering one million flying hours over the course of their service.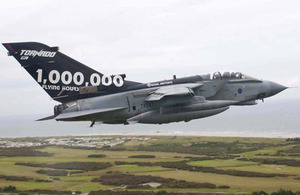 Number 617 Squadron, 'The Dambusters', took the aircraft through the landmark in Afghanistan last week.
The RAF's deep strike and reconnaissance aircraft were first flown by the RAF in 1979 and have been at the forefront of operational service ever since.
From its service in the Gulf spanning 20 years and two Gulf Wars, through its operations in the Balkans and current deployments to Afghanistan and Libya, the Tornado has proven itself in battle time and time again.
The Tornado has a range of highly accurate precision missiles and bombs that can destroy a vast range of targets, from aircraft and small moving vehicles on the ground to heavily fortified bunkers.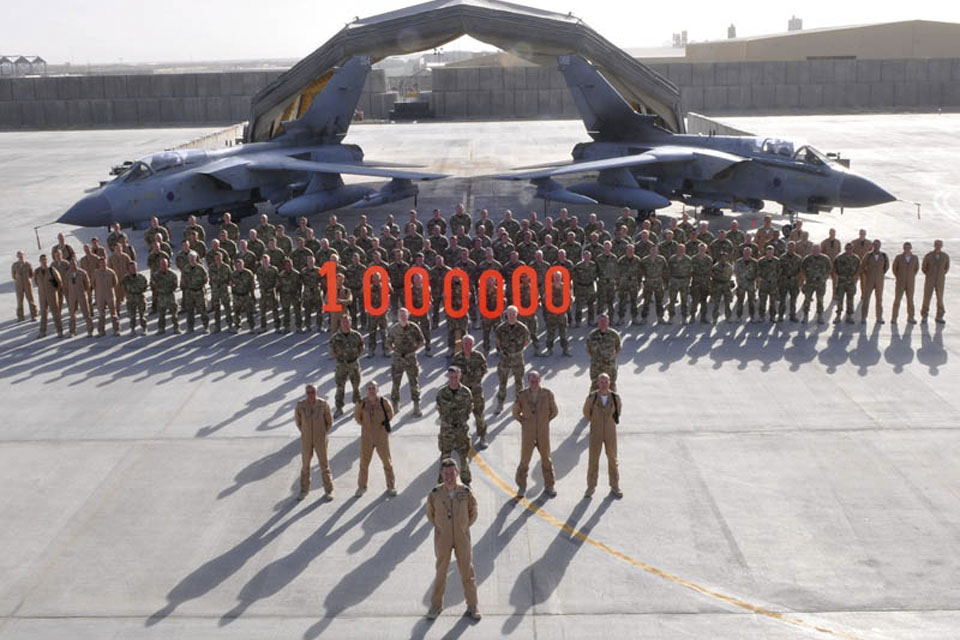 The aircraft also has a selection of high-tech sensors that can detect hostile forces, pass live day and night video to troops on the ground, and take detailed reconnaissance pictures, as they have done over Helmand province and Libya.
Defence Secretary Dr Liam Fox said:
This impressive milestone is testament not only to the Tornado as a cutting-edge military aircraft but also to the skill and professionalism of the RAF aircrew, engineers and support staff who have supported it in service for more than 30 years, and who continue to deliver its world-leading ground attack and reconnaissance capabilities today in Libya and Afghanistan.
Chief of the Air Staff, Air Chief Marshal Sir Stephen Dalton, said:
Tornado has been used to deny enemy airfields and strike their hardware and infrastructure, enforce no-fly zones, provide close air support to troops on the ground, and it continues to be a world-leading combat intelligence, surveillance and reconnaissance aircraft in Afghanistan and Libya.
The range of sophisticated precision weapons and cutting-edge sensors Tornado carries and the ability to grow these capabilities further will provide the Royal Air Force with the rapid far-reaching air power it requires to protect the nation's interests for many years to come.
The RAF has five front line Tornado squadrons, Numbers 12(B) and 617 Squadrons at RAF Lossiemouth, and Numbers II(AC), IX(B) and 31 Squadrons at RAF Marham. The Operational Conversion Unit, Number 15(R) Squadron, is also based at RAF Lossiemouth.
Currently Number 617 Squadron is deployed in Afghanistan and Number II(AC) Squadron is deployed in support of operations in Libya.
Published 27 June 2011