Topping out Watts Gallery
On Friday, Jeremy Hunt visited Watts Gallery to complete the topping out ceremony as part of its restoration. Mr Hunt has been a long-term…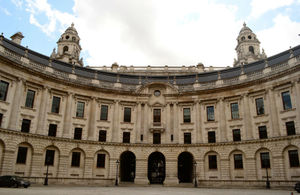 Mr Hunt has been a long-term champion of Watts Gallery in the heart of the village of Compton, Surrey, where his grandmother is buried.
Watts Gallery is due to reopen in Spring 2011 after an £11 million restoration. One of the most important galleries in the country, it showcases the art of George Frederic Watts, the most eminent artist of the Victorian age.
The topping out of Watts Gallery marks the completion of the highest point of the building, in this case the rebuilding of the Lantern rooflight which was removed in the 1950s and is being replaced as part of the restoration project.
Perdita Hunt, the gallery's director, commented: "G F Watts had a phrase 'The Utmost for the Highest' which seems very appropriate as Jeremy has done his utmost to help Watts Gallery achieve its aims of restoring [itself] for the community and for the nation."
The next milestone is for the last tile to be replaced on the roof of the Gallery. To this end, Mr Hunt signed a roof tile to accompany those that have already been signed by members of the public in return for a £5 donation to the _Hope _Appeal.
Published 24 May 2010