Top ten most popular Foreign Office podcasts of 2011
From the Secret Intelligence Service to the "principality" of Sealand, FCO podcasts have covered a huge range of topics. Take a look at the most popular from the past year.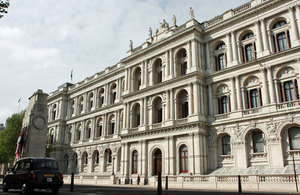 Here we've listed the podcasts which got the most downloads this year from each series produced by the Foreign Office. You can access all of our podcasts via RSS or iTunes.
The Sealand Affair - the last great adventure of the twentieth century?
In our most popular podcast this year, Grant Hibberd examines the history and events of Sealand and how Britain has traditionally gone about formally recognising other countries.
(From the Foreign Office History series)
Secret Intelligence Service (MI6) Documents
Christopher Baxter, a former research fellow in Intelligence History at Queens University Belfast, speaks about some of the most important documents from the early history of the SIS.
(From the Foreign Office History (enhanced) series)
Human rights: This Prison Where I Live
The first episode in our human rights audio series focused on freedom of expression in Burma, featuring excerpts from the film, 'This Prison Where I Live' and interviews with Director Rex Bloomstein.
(from the Human Rights Podcast series)
Who can govern the ungovernable?
Richard Burge, the CEO of Wilton Park hosts a discussion with John Duncan, senior UK diplomat and Special Representative for the London Conference on Cyberspace, and Ben Hammersley, Editor at Large of Wired magazine.
How can governments work with businesses, and the people behind the innovation and the development of digital media, to ensure that they can help realise the opportunities presented for their citizens?
(from the London Conference on Cyberspace series)
Why the Horn of Africa matters to the UK
Foreign Secretary William Hague talked about why British foreign policy is engaged on the Horn of Africa in his video blog.
(from the Foreign Secretary's series)
Alina Ibragimova
Alina Ibragimova is a Russian violinist, renowned for her classical and modern music performances. The film is one in a series featuring individuals from home and abroad talking about their experiences of modern Britain in the run up to the London 2012 Olympic and Paralympic Games.
(From the See Britain series)
Nuclear non-proliferation
What are the big issues we are facing? Is there a consensus amongst the countries that don't have nuclear weapons as to how things go forward on disarmament? How does the new coalition address differences between the nuclear states?
(From the Wilton Park Dialogues series)
John Duncan's Final Podcast
In his final podcast, John Duncan reflects on his five years as British Ambassador for Multilateral Arms Control & Disarmament.
(from the Ambassador John Duncan series)
UK's Policy and Work in Jerusalem
Arabic language podcast from the FCO Arabic Spokesmen series
Tobacco Concession
Farsi language podcast from the FCO Farsi Spokesman series
Published 20 December 2011