Press release
Top-quality technical and vocational qualifications announced
The range and quality of options is better than ever as new subjects are revealed.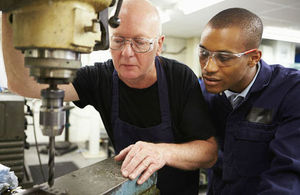 Pupils will have better access than ever before to high-quality vocational and technical education after a raft of new subjects was announced today.
A wide range of careers, including engineering, hospitality, construction and social care are included in the lists of qualifications.
Today's publication (10 December 2014) is the final step of the major reform to vocational education that followed a groundbreaking report in 2011 from Professor Alison Wolf, which found that thousands of 16- to 19-year-olds were doing vocational courses of little value.
Skills Minister Nick Boles said:
For education to really matter, young people must leave school with the skills and qualifications that employers want.

That's why I'm proud to announce this government has stripped out every single poor-quality course and made sure that qualifications are of the highest standard.

This is a sweeping change to vocational education that, combined with the 2 million new apprentices, will make sure that every young person has the best possible chance to really make a go of things.
The lists, which are updated annually, for the first time cover the full range of technical and vocational qualifications taught up to the age of 19.
The 3 categories of qualification include the new 'technical certificates', which help 16- to 19-year-olds into skilled trades.
The other categories are 'technical awards' for 14- to 16-year-olds and the A level-equivalent 'tech levels'.
The latest qualifications will count in league tables from 2017 and have the backing of employers, industry bodies and higher education institutions.
Professor Wolf's report highlighted a system in which some schools put pupils on courses that might boost their league table positions but which were not in the best interest of the pupils.
As a result, thousands of qualifications have been stripped away, and the number of qualifications that can be reported in the performance tables has fallen from over 5,000 to just 625.
Examples of qualifications that have not been approved for the new lists include study skills, induction to college, and employment and personal learning at work.
The qualifications that have been announced today are designed with, or approved by, employers and help to meet the skills gap. They lead to some of the fastest-growing and most rewarding jobs of the future, in areas ranging from construction to business and finance.
There are clear pathways young people can take through the vocational and technical route. For example, someone interested in construction could:
between the ages of 14 and 16, alongside their GCSEs, take a certificate in designing, engineering and constructing a sustainable built environment
at the age of 16 develop skills in a trade such as carpentry or plumbing by studying a technical certificate
develop more specialist skills through a tech level course and an apprenticeship
Bridget Bartlett, Deputy Chief Executive at the Chartered Institute of Building, said:
The development of rigorous vocational qualifications that employers value and respect is incredibly important. Qualifications that meet these new standards will enable pupils to make informed career choices as well as improving their employability skills.

The construction sector is currently facing skills shortages and the emergence of high-quality vocational qualifications in schools will be key to the future success of this economically important global industry.
Peter Ducker, Chief Executive of the Institute of Hospitality, said:
The Institute of Hospitality is proud to have supported the development of vocational qualifications in patisserie and cookery. We recognise the importance to the hospitality and tourism sector of qualifications that provide quality execution of learning and assessment.
Also today, the UK Commission for Employment and Skills published its Careers of the Future guide. Today's technical and vocational qualifications lead to jobs in all ten of the highlighted sectors in this guide.
Notes to editors
The government has introduced 3 categories of technical and vocational qualifications for 14- to 19-year-olds, to be reported in performance tables alongside academic qualifications. Qualifications are categorised by age and purpose, and no qualification will count in more than one of these categories.
Qualifications approved in the technical award category are broad level 1 and level 2 qualifications for 14- to 16-year-olds. They focus on practical and technical subjects, and offer an opportunity to gain skills and knowledge not usually acquired through GCSEs.
Qualifications approved in the technical certificate category (tech level equivalents at level 2) provide initial technical training for 16- to 19-year-olds. They provide a route into a skilled trade or occupation, where employers recognise entry at this level, and provide access to tech levels in that occupational area.
Qualifications approved in the tech level category are level 3 qualifications (on a par with A levels) for students wishing to specialise in a specific technical occupation or occupational group. They are all backed by employers as providing entry to an apprenticeship, other skilled employment or a technical degree.
In addition, qualifications approved in the applied general category will be announced shortly. These are level 3 qualifications, like A levels and tech levels, for students who want to learn in a more applied way but wish to continue general education. These are backed by universities as fulfilling entry requirements for a range of higher education courses.
DfE enquiries
Central newsdesk 020 7783 8300
General enquiries 0370 000 2288
Published 10 December 2014