Top providers urged to get ready for two-year-old education offer
Local authority allocations to deliver 15 hours a week early education for 130,000 two-year-olds have been published.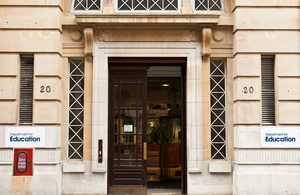 Elizabeth Truss has called on LAs to ensure that funding reaches the front line.
The government has today (27 November 2012) published local authority allocations to deliver 15 hours a week early education to 130,000 two-year-olds from September next year. This funding will help ensure more nurseries keep the best staff and give more children access to the high-quality early education they need to help them get on in life.
The funding is being provided at a flat rate per child per hour (adjusted for the area's average costs). Childcare Minister Elizabeth Truss has called for funding to be passed on in full to providers to ensure that high-quality staff are recruited and retained and so that excellent operators are encouraged to open in areas of scarce provision.
Two-year-olds in good and outstanding settings see real developmental benefits according to government research, whereas two-year-olds in poorer quality settings are no better off than those who stay at home. All the evidence suggests that staff quality is the key determinant of improved outcomes.
The government's aspiration is therefore that all eligible two-year-olds are able to receive early education in good and outstanding settings. To this end, local authorities will receive an average of £5.09 per child per hour, for statutory places, which they are expected to pass on in full to schools, nurseries and childminders. This is significantly above the market rate of £4.13 (Daycare Trust figures) which providers charge and will enable high quality staff to be retained, recruited and trained.
A new online tool from [Ofsted] also launched today. Parent View [https://parentview.ofsted.gov.uk/ Parent View] will allow parents and providers to compare how many good and outstanding providers there are in each local area. Parents will also know whether the full allocations have been passed on to providers as the Department will publish details of local authority spend on its website.
The government is also calling on local authorities to raise awareness so that as many families as possible take up the offer. In future, funding to councils will be based on the number of participating children. Less money will go to local authorities that have not ensured parents are taking up these places - in other words, they will be funded on a 'use it or lose it' basis.
In total, local authorities will receive more than half a billion pounds to fund two-year-olds places next year. Funding will increase so that from September 2014, 260,000 two-year-olds benefit.
Deputy Prime Minister Nick Clegg said:
From 2013, 130,000 of the most disadvantaged two-year-olds will be eligible for 15-hours of free childcare a week with double that number set to benefit the following year.
Today we're letting local authorities know the money they will receive to offer these free places and make a huge difference to hard-pressed families.
Good quality childcare gives children a headstart even before they walk through the school gates for the first time. No child should miss out on this just because of the circumstances of their birth.
Elizabeth Truss, Education and Childcare Minister, said:
I am calling on schools, nurseries and childminders to step up to the challenge so that all two-year-olds from low-income families are in good or outstanding settings.
We know that only high-quality early education has a long-term impact on school readiness. Therefore, I am urging local authorities to pass on all the funding for places to the front line, so that providers are able to retain and recruit the top quality staff that our youngsters deserve.
Kathy Sylva, Professor of Educational Psychology at Oxford University, said:
Research from several countries shows that the participation of two year olds in early learning and childcare has benefits for their development.
A recent study by the University of Oxford and NatCen Social Research shows that two year olds who attended high quality childcare made more progress than children from similar backgrounds who remained at home or attended lower quality provision. The quality of childcare can make a big difference to the development of young children, especially the most vulnerable.
The government has also announced capital funding allocations to councils totalling £100 million, to help build, extend or improve nurseries and early education facilities.
DfE enquiries
Central newsdesk - for journalists 020 7783 8300
General enquiries - for members of the public 0370 000 2288
Published 27 November 2012