World news story
Top Ministry of Defence official visits Kosovo
This was published under the 2010 to 2015 Conservative and Liberal Democrat coalition government
Mr Nick Gurr, United Kingdom Ministry of Defence (MOD) Director for International Security Policy, visits the Ministry of Kosovo Security Force (KSF) and Headquarters KFOR.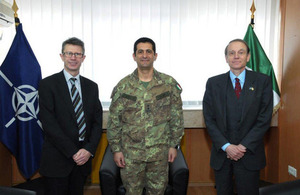 During his visit Mr Gurr had a meeting with Minister of KSF Haki Demolli and his senior officials, and the newly appointed Commander of KSF Lieutenant General Rrahman Rama. Both sides discussed a wide range of bilateral issues, including training and security co-operation. Minister Demolli thanked the UK for its active support for the KSF, especially in the field of military leadership and education. He was extremely impressed by the training received by young KSF officers in the UK at the Royal Military Academy Sandhurst (RMAS) and training for the KSF provided by UK specialist teams in Kosovo. Mr Gurr was pleased to hear that the professional support and training was well received and expressed the wish of the UK Ministry of Defence to continue supporting the KSF in developing its capabilities.
General Rama's first official meeting as Commander of the KSF was with Mr Gurr and he stated:
I am really pleased to welcome and meet a senior official from the UK MOD, as the British are one of our longest and most trusted allies and we enjoy an excellent relationship.
The second phase of the visit was to the Headquarters KFOR where Mr Gurr was welcomed by Major General Francesco Paolo Figliuolo, Commander KFOR. During their meeting they discussed a range of topics, including the present Kosovo security situation, future KFOR posture and current and future support to the KSF.
British Ambassador to Kosovo Ian Cliff said:
Nick Gurr's visit came at a crucial time in the evolution of the KSF and the wider security picture in Kosovo. I was delighted that he was able to reaffirm the UK's continuing support for Kosovo and the KSF.