News story
Top British diplomat announces UK-Palestinian strategic dialogue
Sir Simon Fraser visits the Occupied Palestinian Territories to strengthen bilateral relations with the Palestinian Authority.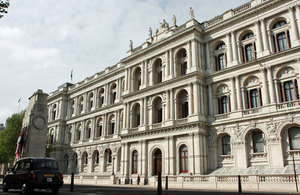 The Foreign and Commonwealth Office's Permanent Under-Secretary and head of the British Diplomatic Service, Sir Simon Fraser, yesterday visited the Occupied Palestinian Territories. The visit was an opportunity to express Britain's strong support for ongoing Israeli-Palestinian final status negotiations and to strengthen further bilateral relations between the UK and the Palestinian Authority.
Simon Fraser met PA Prime Minister Dr Rami Al Hamdallah and Palestinian Deputy Foreign Minister Dr Tayseer Farhat, with whom he announced a new UK-Palestinian Strategic Dialogue, a sign of Britain's strong support for Palestinian institutions and desire to intensify political consultations between the British and Palestinian Foreign Ministries.
The decision to establish this forum follows President Abbas' successful visit to London in September. The first meeting of the Strategic Dialogue will be held next year, and will focus on UK-Palestinian relations, the prospects for Middle East Peace, and wider regional issues.
The Strategic Dialogue will complement Britain's existing ties with the Palestinian Authority, including the longstanding Memorandum of Understanding between Britain's Department for International Development and the Palestinian Ministry of Planning and Administrative Development.
During his visit, Simon Fraser also made field visits in East Jerusalem. He visited Shufat Refugee camp to see the situation facing Palestinian refugees. He also visited Ash-Shayyah, an area threatened by house demolitions, where a UK funded planning project is successfully supporting vulnerable Palestinian communities.
Following his meetings, Sir Simon Fraser said:
President Abbas made a courageous decision in summer this year to return to final status negotiations. Our message to the Palestinian leadership at this time is that despite the challenges, this remains the right course.

I reiterated to Prime Minister Hamdallah today that Britain views all settlement expansion as illegal under international law, and that we want to see the current negotiations lead to a viable and sovereign Palestinian state living alongside a safe and secure Israel – based on 1967 borders and with agreed land swaps, Jerusalem as the capital of both states, and a just, fair and agreed solution to the refugee question.

The launch of the UK-Palestinian Strategic Dialogue is evidence of our continued commitment to strengthening our relationship with Palestinian institutions, the institutions of the future Palestinian State.
Further information
Follow the PUS on twitter @SimonFraserFCO
Follow the Foreign Office on twitter @foreignoffice
Follow the Foreign Office on facebook and Google+