News story
Top athletes give back over 4,000 days to community sport
UK Sport reveals how 2012 Olympic and Paralympic sports stars are helping to inspire a generation.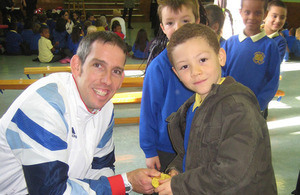 Athletes from the London 2012 Olympic and Paralympic Games have made thousands of appearances in schools and communities to help inspire a generation through sport, Culture Secretary Maria Miller announced today.
The UK Sport review which looks at what GB Olympic and Paralympic Athletes have done since London 2012 also reveals:
Of the 172 London 2012 medallists who reported back it is estimated that 77% have made at least one school or community appearance
45% of these London 2012 medallists have already made 5 or more visits
10 sports have averaged 5 appearances or more per athlete
In August Prime Minister David Cameron announced continued government funding for elite sport beyond the lifetime of the current Parliament and asked all funded athletes to give up to 5 days a year to inspire children and young people to get involved in sport.
This decision allowed UK Sport to invest a record £355 million of National Lottery and government funds for 44 sports to prepare for Rio 2016 and build on the incredible success of London 2012.
Culture Secretary Maria Miller today met with Olympic canoeing gold medallist Etienne Stott at Loughborough University's high performance sports centre to hear about his experiences going into schools and community sport clubs.
Maria Miller said:
We said that we would inspire a generation from London 2012 and these visits happening up and down the country help do exactly that. Our athletes are excellent role models and are making a great contribution to the Olympic and Paralympic legacy.
Further information
Published 23 July 2013