News story
Too Young To Wed: award winning photography on show as part of Girl Summit 2014
Photographic exhibition exploring the issue of child marriage to be shown at the London School of Economics from 21 July - 1 August 2014.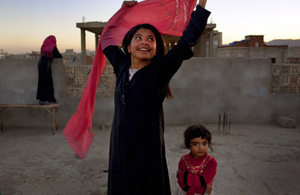 Child, early and forced marriage occurs in every part of the world, affecting millions of girls every year. One in three girls in developing countries is married by the age of 18, and one in nine by the age of 15. Some are as young as eight.
Photographer, Stephanie Sinclair, has documented the issue of child marriage for more than a decade. She lived in the Middle East for six years and began her work on child marriage after encountering young women who had set themselves on fire in Afghanistan and learning that many of these girls had been married underage.
In addition to Afghanistan, this ongoing project has led her to Nepal, India, Ethiopia, Tanzania, Yemen and the United States. The resulting images have been published worldwide in prestigious outlets such as National Geographic, The New York Times Magazine, and Paris Match among many others. Most recently, the images have won three World Press Photo awards and two Visa d'Ors at the Visa Pour L'Image photo festival in Perpignan, France. Sinclair is the recipient of numerous other awards including the CARE International Award for Humanitarian Reportage, the Overseas Press Club's Olivier Rebbot Award and a Pulitzer Prize.
The resulting photographic exhibition, Too Young To Wed, produced in association with UNFPA, has been exhibited around the world.
The Department for International Development is delighted to bring an abridged version of the exhibit to the UK for the first time. It will be on display at the London School of Economics from 21 July - 1 August 2014, as part of the British Government's Girl Summit 2014. The exhibition is open to the public from 10am-8pm Monday to Friday, but closes at 2pm on Friday 1 August.
The Girl Summit will rally a global movement to end child, early and forced marriage and female genital mutilation (FGM) for all girls within a generation.
Doing this will help preserve girls' childhoods, promote their education, reduce their exposure to violence and abuse, and allow them to fulfil their potential in life. Everyone has a part to play in achieving rights for girls and women around the world.
Take a stand against child marriage and FGM today – sign our pledge now to show your support in ending these harmful practices forever. Your voices will be heard at the summit.
To see an online version of the exhibition, visit www.tooyoungtowed.org
Published 30 June 2014