Press release
Too many passengers lands ferry company in court
Carrying numbers of passengers, including schoolchildren, far in excess of its license, has cost a Hampshire ferry company £12,340.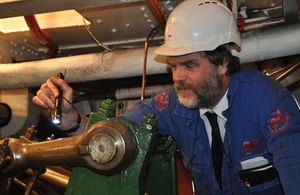 At Portsmouth Magistrates Court on Tuesday 23 September the master, operator and owner of the ferry, Tina Maria, were each charged with four counts of sailing without a valid passenger certificate, and two charges of sailing with insufficient liferafts onboard. All three pleaded guilty to all charges, which were brought by the Maritime and Coastguard Agency (MCA).
Tina Maria is an 11-metre long, single-engined boat used as a ferry between Hayling Island and Eastney, across the entrance to Langstone Harbour. The vessel is certified to carry 12 passengers and two crew. On four occasions in January and February of this year the boat, which is operated by Hayling Ferry Ltd, landed between 16 and 27 passengers at Hayling Island; in all cases the majority of passengers were children returning home from schools in Portsmouth.
The Master of the Tina Maria, Geoffrey Oliver (age 58) was fined £900 plus costs of £400. He has to pay a victim surcharge of £20. The owner of the vessel, Frida Edwards (age 54) was fined £600, plus costs of £300. She also has to pay a victim surcharge of £20. The operator of the Tina Maria, Hayling Ferry Ltd, was fined £6,000, plus costs of £4,000. The company will have to pay a victim surcharge of £100.
On all the occasions listed in court, the vessel had inadequate lifesaving equipment for all the adults and children on board: Tina Maria carried 14 adult lifejackets; 12 child lifejackets and had liferaft capacity for 18 passengers and crew.
Captain Amir Esmiley, Surveyor-in-Charge at the MCA's Southampton Marine Office, said:
There was a clear lack of concern for the safety of passengers which was made worse as the majority of people on the four crossings were children. The limits on the number of passengers that can be on a vessel are there to ensure that everyone has a proper lifejacket and a place in a liferaft.
Maritime and Coastguard Agency press office
Press enquiries 020381 72222 (Monday to Friday, 9am-5pm)
Outside these hours, for emergency press enquiries only please dial the above number. You will hear a message giving an out of hours pager number.
Published 24 September 2014