Tongan PM visits the MOD as part of three-day visit
The Tongan Prime Minister, Lord Tu'ivakano, and the Commander of the Tonga Defence Services, Brigadier General 'Uta'atu, were welcomed to the Ministry of Defence in London today with a ceremonial guard from the Household Cavalry Mounted Regiment.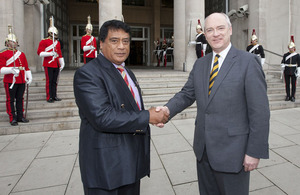 Today's visit is the first by the Tongan Prime Minister and is part of a three-day programme which includes a visit to the Royal Military Academy Sandhurst as well as meetings at MOD Main Building.
During the visit a range of topics will be discussed, including Tongan support in Afghanistan and training opportunities for the Tongan Defence Force.
The MOD has plans to arrange for trainers from the Royal Military Academy Sandhurst to travel to Tonga to conduct separate leadership and physical training courses. The Tongan Defence Force currently has an Officer Cadet at Britannia Royal Naval College Dartmouth.
The Minister of State for the Armed Forces, Nick Harvey, who hosted the delegation, said:
I would like to express my gratitude to the Tongan Government for allowing the deployment of 55 Tongan troops serving alongside UK Armed Forces in Afghanistan.
Their deployment has been nothing but positive. They have provided great utility and are conducting a variety of force protection tasks in partnership with British forces, significantly mitigating threats to internal security at Camp Bastion.
The UK welcomes the opportunity to discuss the potential for extending the current Tongan deployment in Afghanistan as well as training opportunities in the future.
Published 22 February 2012