Foreign Office Minister visits areas recovering from the devastation of 11 March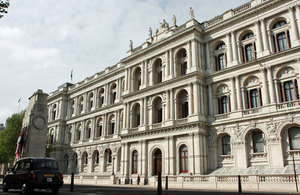 Jeremy Browne MP, Minister of State at the Foreign & Commonwealth Office, visited the North East of Japan from 9-10 July.
During his visit to the Tohoku he was able to see for himself some of the devastation, and the reconstruction efforts under way. He met with Mr Masahiro Wako, Vice Governor of Miyagi Prefecture and Mr Hiroshi Kameyama, Mayor of Ishinomaki city. In these meetings Jeremy Browne was able to express the thanks of the UK government for the help of local officials and people in supporting efforts by the British Embassy to find British people in the affected areas during the crisis period.
Despite his plans being interrupted by an earthquake, measuring 7.3 on the Richter Scale and triggering a tsunami alert, Jeremy Browne was also able to visit the activities of the NGO Peaceboat, which is helping businesses clean up their premises, and is also providing some 2,000 hot meals a day to those affected by the disaster. The British Chamber of Commerce in Japan is supporting this particular project, through funding, infrastructure repairs, and through volunteering. Peaceboat has also been supported by a number of British companies, including People Tree, HSBC, Body Shop and Lush.
The BCCJ has also been pivotal in setting up a bilingual donor-matching website, We Care Japan, where communities or NGOs can post their needs and donors offer assistance. Water, food, clothing and i-pads for children have already been supplied through connections established via the site and Call Credit in Leeds are now undertaking a sponsored trek to raise funds for temporary housing packs for 1500 homes.
In Sendai Jeremy Browne was also able to meet with a number of British people, who were affected by the disaster but who have now returned to their adoptive communities to play a part in the reconstruction.
Before returning to Tokyo Jeremy Browne recorded the following video message, in which he says:
"I have said to the Mayor of Ishinomaki and will be saying to senior Japanese Ministers when I get to Tokyo, the British Government has great confidence in the Japanese authorities to get to grips with the situation but, if there's any way in which we can help, we will do so.
We greatly admire the fortitude and resilience of the Japanese people and I think anyone looking at the scene behind would feel that it is quite right that we do anything we can do to help the people on this part of Japan rebuild their lives That is something that we are proud to do - to try and help those people who suffered the trauma of the earthquake and tsunami just 4 months ago."
Published 11 July 2011