Press release
Tobias Ellwood, Minister for Middle East and Africa, calls on DRC government to set election date
At the 71st UN General Assembly ministerial week, Tobias Ellwood says DRC government must deliver on their promises to the Congolese people.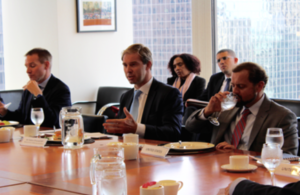 Speaking from New York after the UK-hosted 'International meeting on the situation in the DRC', Minister for Africa and the Middle East, Tobias Ellwood, said:
"I am appalled by the violence which has broken out in the Democratic Republic of Congo. I call on all sides to immediately exercise restraint. The UK will work closely with our international partners to ensure that those responsible for deaths and fatalities are held individually responsible for their actions.
"We are deeply disappointed with the electoral delay. The key to a sustainable solution remains for the government to deliver on their promises to the Congolese people. Their Constitution is clear that Presidential elections should be called three months before the end of the President's term. The government must urgently set a date for timely elections to prevent the situation from escalating further.
"I strongly urge all parties to continue to engage meaningfully with the National Dialogue process. As set out in UNSCR 2277, this should ensure the protection of fundamental freedoms and human rights and pave the way for peaceful, credible, inclusive, transparent and timely elections in the DRC, providing a new hope for the country and for Africa."
Published 20 September 2016