Press release
Tobacco standard packs: supporting smokers to quit
Tobacco standard packs are now appearing in England, presenting a unique moment to encourage, motivate and support current smokers to quit.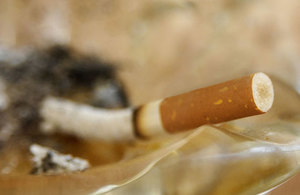 The latest edition of Public Health England's (PHE) Health matters, published today (15 September 2016) outlines the evidence for standardised packaging and sets out how health professionals and local authorities can capitalise on the introduction of tobacco standard packs to support smokers to quit.
Tobacco standard packs are drab in colour with prominent health warnings and unbranded other than the name in plain font. Not only can their introduction help prevent the next generation of smokers, the evidence from Australia shows that they can also increase the number of current smokers who are motivated to quit.
Research has shown that compared with smokers smoking from branded packs, smokers who were smoking from standard packs were more likely to perceive their tobacco as being lower in quality, tended to be lower in satisfaction, and were more likely to think about and prioritise quitting.
Standard packs are now beginning to appear on the shelves in England and by May 2017 all cigarettes and hand rolling tobacco sold in the UK will appear in standard packs. This presents a unique window of opportunity to support smokers to quit.
Launching Health matters today, PHE Chief Executive Duncan Selbie, said:
The introduction of standard packs is a crucial part of our broader efforts to stop young people from taking up smoking. Research shows that they are less attractive and less misleading to children, giving the health warnings greater impact.

Australia's experience indicates that we can expect a spike in motivation to quit among England's 7 million smokers. This latest edition of Health matters sets out the facts and explains how health professionals, local authorities and other partners can make the most of the introduction of standard packs to improve the public's health.
This edition of Health matters sets out the evidence on standardised packaging and calls on local authorities and health professionals to play their part in ensuring that all smokers have access to the support they need.
Health matters brings together, in one easily accessible package, local and national level data, as well as campaigning and social marketing resources – all presented in an easy-to-use format that will help maximise the public health impact of standardised packs.
Background
Health matters is PHE's resource for public health professionals, which brings together important facts, figures and evidence of effective interventions to tackle major public health problems.
The Health matters resource will be supported and linked to a wide range of content, some will be released today and further content will be published throughout the coming month across a variety of channels.
Public Health England exists to protect and improve the nation's health and wellbeing, and reduce health inequalities. It does this through world-class science, knowledge and intelligence, advocacy, partnerships and the delivery of specialist public health services. PHE is an operationally autonomous executive agency of the Department of Health. Follow us on Twitter: @PHE_uk and Facebook: www.facebook.com/PublicHealthEngland.
Public Health England press office
Published 15 September 2016