Ties between UK and Pakistan remain strong and unbroken
Pakistan Foreign Minister Hina Rabbani Khar is visiting the UK for the second round of the UK-Pakistan Enhanced Strategic Dialogue.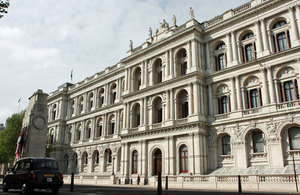 Speaking after his meeting with the Pakistan Foreign Minister, the Foreign Secretary said:
"I am delighted to welcome Pakistan's Foreign Minister, Hina Rabbani Khar, to the Foreign Office today for her first official visit to the UK; and the second round of the Enhanced Strategic Dialogue, which was launched by our two Prime Ministers last year. Our discussions focused on further developing our partnership, one that reflects the full extent of the ties between our two countries. Both our countries face significant challenges, together we will work closely to improve the prosperity and security of our peoples."
We will be tweeting the Foreign Secretary's press conference with the Foreign Minister at 1600 GMT. Follow on @foreignoffice
Pakistan's Foreign Minister also met Trade and Investment Minister Lord Green and Minister for South Asia Alistair Burt.
Published 21 February 2012