News story
Three new Deputy Chairmen of Competition Commission announced
Minister for Employment Relations, Consumer and Postal Affairs Edward Davey said: "I would like to welcome Simon Polito, Martin Cave and Alasdair…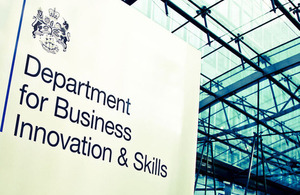 Minister for Employment Relations, Consumer and Postal Affairs Edward Davey said:
"I would like to welcome Simon Polito, Martin Cave and Alasdair Smith to these posts. They will play a crucial role in steering the Commission through an important period and will make sure the organisation continues to maintain its high standards as we take forward possible changes to the Competition Regime."
Chairman of the Commission, Roger Witcomb said:
"I am delighted to welcome three such high calibre people as Deputy Chairmen. Their appointment underlines that one of the key strengths of the CC is its ability to attract eminent people with a broad range of experience and expertise in competition issues. They will help us to maintain the quality of our investigations into important markets and mergers, and will have a great contribution to make to the Government's planned reforms to the competition regime."
**Notes for editors.
**
The Competition Commission is an independent public body established by the Competition Act 1998. It replaced the Monopolies and Mergers Commission on 1 April 1999.

The Commission conducts in-depth inquiries into mergers, markets and the regulation of the major regulated industries. Each inquiry is undertaken in response to a reference made to it by another competition authority, usually the Office of Fair Trading, or regulators under sector-specific legislative provisions relating to regulated industries. Under the Enterprise Act 2002, the Commission's role was considerably strengthened and widened, especially by giving it a determinative role in respect of remedies to be applied. The Deputy Chairmen are also working members of the Commission and sits on its Council, the strategic management board.

All three new appointments as Deputy Chairmen will be part-time (4 days per week) and will be from January 2012until December 2014
From the time of appointment, remuneration for each of the Deputy Chairmen appointments will be £102,640 per annum.
Simon Polito is a City Solicitor with international law firm Hogan Lovells. He has over thirty years' experience as a specialist in UK and EU competition law and has practised both in London and Brussels. He was a partner with the firm for 26 years and Head of the Firm's EU and Competition law practice from 2001 to 2004. He is Chairman of the Joint Working Party of the Bars and Law Societies of the United Kingdom on Competition Law."
Martin Cave is an economist specialising in competition issues and the regulation of network industries. He was BP Centennial Professor at the London School of Economics in 2010/11 and Professor at Warwick Business School from 2001 to 2010. Prior to that he was Professor of Economics and Vice-Principal at Brunel University. He is now Visiting Professor at Imperial College Business School.
He has undertaken several independent reviews for the UK government, into spectrum policy, the regulation of social housing and competition and innovation in the water sector. He has also advised governments and regulators throughout the world on competition and regulation in a number of sectors. He was a member of the Competition Commission from 1966 to 2002. He was awarded an OBE for public service in 2009.
Alasdair Smith has been a Professor of Economics at the University of Sussex since 1981 and was Vice-Chancellor of the University from 1998 to 2007. His academic work focuses on the effects of international trade on competition, growth and the distribution of income; and he also has interests in the economics of public sector pensions and in the economics of higher education. He has written extensively on the effects of the single European market and EU enlargement on competition. He was chair of the 1994 Group of universities from 2001 to 2005, and chair of the Universities and Colleges Employers Association in 2006-7. He has been a member of the Prison Service Pay Review Body and of the Review Body on Doctors' and Dentists' Remuneration. From 2007 until 2010, he was a consultant to the then Department for Children, Schools and Families, supporting university involvement in the Academy schools programme. He was a member of the expert advisory group to Lord Hutton's Independent Public Service Pensions Commission, and is now a member of the Determinations Panel of the Pensions Regulator. He has been chair of the Armed Forces Pay Review Body and a member of the Senior Salaries Review Body since March 2010.
All appointments are made on merit and political activity plays no part in the selection process. However, in accordance with the original Nolan recommendations, there is a requirement for appointees' political activity (if any declared) to be made public. None of the three appointees have undertaken any political activity within the last five years. Alasdair Smith is currently a member of the Armed Forces Pay Review Body, the Senior Salaries Review Body, and The Pensions Regulator. Neither Simon Polito nor Martin Cave holds any other public appointments.
All members of the Competition Commission are subject to the House of Commons Disqualification Act 1975, which disqualifies holders of scheduled public offices from membership of the House of Commons.

These appointments have been made following an open competition in accordance with the OCPA Code of Practice.

Government consulted earlier this year on possible changes to the Competition Regime including a proposal to create a new Competition and Markets Authority bringing together the current functions of the Competition Commission with the competition and markets investigation functions of the Office of Fair Trading.

For more information on these appointments contact the Competition Commission on 020 7271 0242 or press@cc.gsi.gov.uk

BIS's online newsroom contains the latest press notices, speeches, as well as video and images for download. It also features an up to date list of BIS press office contacts. See http://www.bis.gov.uk/newsroom for more information.
Notes to Editors
Contact Information
Name BIS Press Office Job Title
Division COI Phone
Fax
Mobile
Email NDS.BIS@coi.gsi.gov.uk
Name Ed Smith Job Title
Division Department for Business, Innovation and Skills Phone 020 7215 5945 Fax
Mobile
Email ed.smith@bis.gsi.gov.uk
Published 2 November 2011